Spring Kindergarten 2

For spring kindergarten 2, we continued our slightly more academic studies while still allowing lots and lots of time for play and imagination.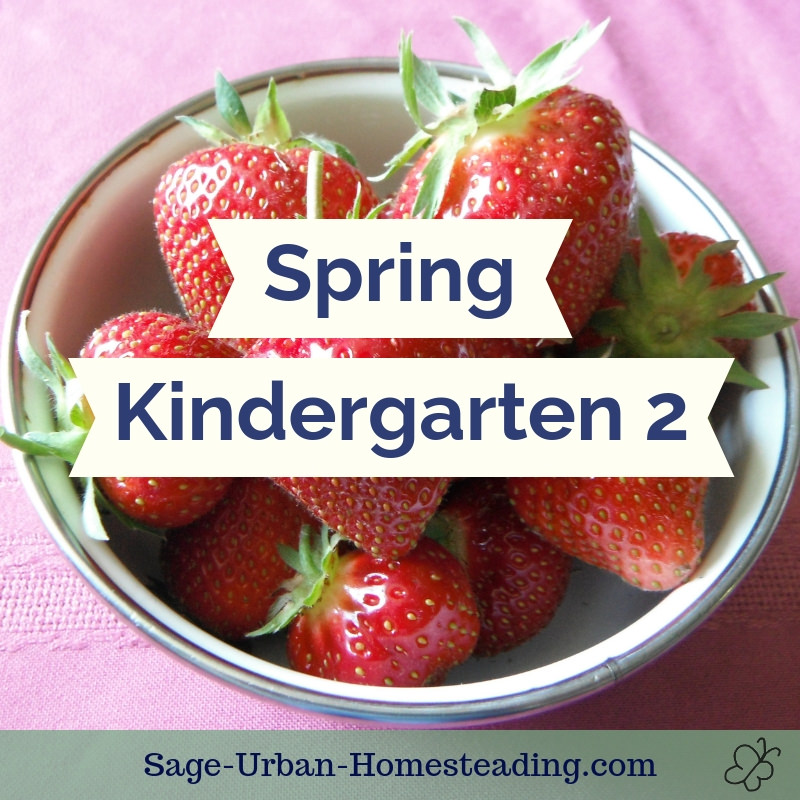 Our Daily Schedule for Spring Kindergarten 2

For K2, we're easing into the head, heart, and hands sections of the day which will be even more important in the numbered grades. If you want to learn more about that and how to make your own homeschooling schedule, please see my page about that.
If you recall, winter was a transitional time for us and our rhythm changed in January. We are still following what I intended for the most part. I don't know if I was clear about it before, but the Waldorf Essentials story is only one day per week. It is designed to be repeated 3 days, but she has no desire to retell it or do artwork about it, so it has only been one day for us since near the beginning over a year ago.
We do one lesson from our reading curriculum two days per week and  one lesson of math three days per week. The other activities and subjects vary by day such as a STEM challenge once a week and an art lesson once a week.
We do our lessons and experiments outside when the weather is nice!

We are celebrating the same spring holidays that we celebrated last year.

March
We continued our study of wood, paper, and bird watching as well as the usual subjects.
April
We enjoyed spring crafts and doing boat and floating experiments outside.
May
We studied different kinds of animals and the fibers they produce.
Why is there a 2? Kindergarten year 2?
You can find the explanation for this on the page about Autumn Kindergarten 2.
Our Second Portfolio Review

The state of Maryland requires two portfolio reviews per year for homeschoolers reporting directly to the county like us.
We had our second review in early May. It was another pleasant experience! The reviewer actually said we are over-achievers and did way more than we need to at this level. She reminded me that homeschoolers typically only take 3-4 hours per day. If only she knew -- typically we only spend 1-2 hours and it's only 2-4 days per week, never 5! But then that's counting "school time" as time when we produce the things seen in the portfolio. I am also of the attitude that learning is a mindset and lifestyle, so essentially we are always "doing school".

Anyway, in a past life, I spent time working and volunteering at public schools. The biggest surprise for me with homeschooling is how little time it takes. There is no time wasted with the routine tasks like passing out papers and lining up, but I think what matters even more is that we only do school when she's ready to learn. If she's in a bad mood, I refuse to do it with her and we wait until she has a better attitude. Also, there is no time wasted reviewing what she doesn't need to review. Every lesson is exactly at her level, exactly where she is, so learning is much more efficient.

More to Explore

---