Gluten-free Gingerbread Cookies
Gluten Free Gingerbread Cookies

Yes, it is possible to make gluten free gingerbread cookies using cookie cutters!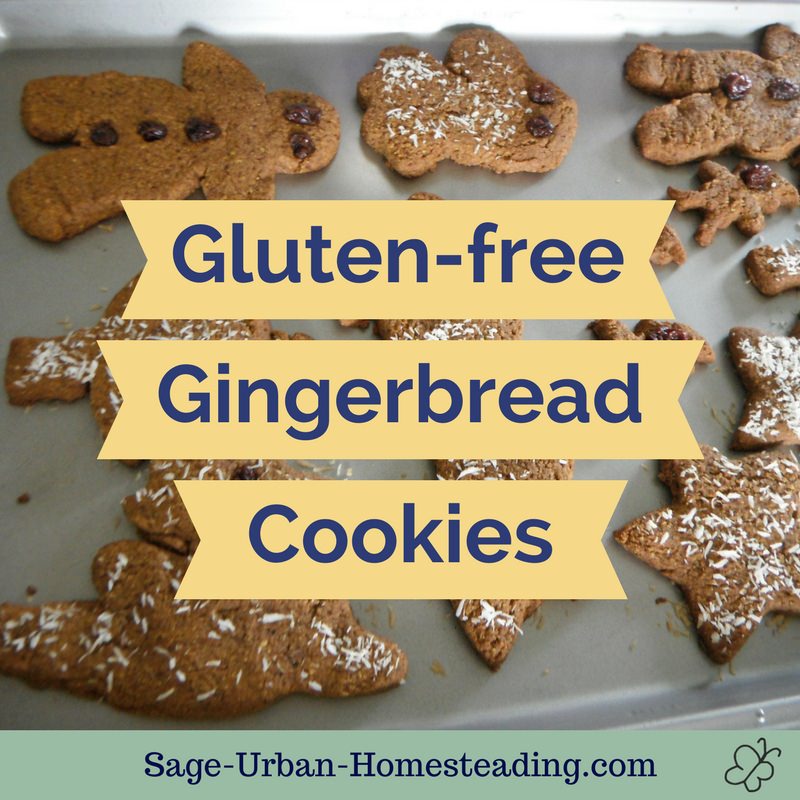 I really wanted to continue the Christmas tradition of making cookies with cookie cutters. I grew up making gingerbread men and other shapes with my grandmother and cousins every year.
How are you supposed to use cookie cutters with no gluten?! It's so frustrating to have a sticky dough that won't tolerate being moved from the rolling out board to the cookie sheet.
And who wants to spend all day digging out and measuring over a dozen ingredients? I tried several recipes and living a life of making everything from scratch gets old after awhile, especially when you're dealing with some fatigue issues.
If you need gluten free gingerbread cookies that are also egg-free and diary-free, you're really going to love this recipe.

I don't mind using a mix from a box when it uses quality ingredients. I am happy to support good companies, and devote more time to the cookie cutters and decorating.

The techniques in this recipe are very child friendly and fun to make. We loved using the spatula to practice flipping!
Gluten Free Gingerbread Cookies
By Amy DeVries, Dec. 22, 2017
This cookie dough can handle cookie cutters and it tastes and smells absolutely delicious!
Prep Time: 15 minutes
Cook time: 30 minutes
Yield: 1 sheet of cookies
Tags: Gluten Free
Ingredients
1/4 cup applesauce
4 Tbsp. organic coconut oil, melted
3/4 tsp. ginger, ground
1/2 tsp. cloves, ground
1/2 tsp. cinnamon, ground
3 Tbsp. organic maple syrup
decorations: organic raisins, coconut flakes, almond slivers, or whatever you like
Instructions
Preheat the oven to 275 F and melt coconut oil.
Have a cookie sheet ready next to your large wooden board (we use one that belonged to my great-great-grandmother). You'll need a medium size mixing bowl and spoon, and a wide, flat spatula (aka hamburger turner) for transfering cookies. Your cookie cutters should be the outline type with an open top.
Empty the boxed mix into the bowl. Add spices and stir. Add the wet ingredients. Stir. Cookie dough will be stiff.
Take a handful of dough and place it on the board. Use your hands to pat it to an even thickness (I found hands worked better than a rolling pin which it wanted to stick to.)
The secret to success: Use the spatula to flip your flattened dough. Do not pat it anymore after it is flipped. Use the cookie cutters and leave them sitting in the dough while you remove the excess.
Carefully use the spatula to transfer the cookies to the cookie sheet. Flatten another handful of dough and repeat the process.
Decorate the cookies before placing them in the oven. Press in any raisins or nuts.
Bake 30 minutes. Cool before removing from sheet to minimize breakage.
You can use melted butter instead of the coconut oil if you don't need the recipe to be dairy-free.
I find these store ok at room temperature for a couple of days.
But like all good cookies, you might not have to worry about storing them too long. Remember a box only makes one sheet of gluten free gingerbread cookies, so you might want to stock up so you don't run out. I like to buy them in bulk.

More to Explore

---