Spring Kindergarten 1

Our homeschool lessons for spring kindergarten 1 will include plenty of nature walks and outside activities. We'll also enjoy celebrating some special holidays.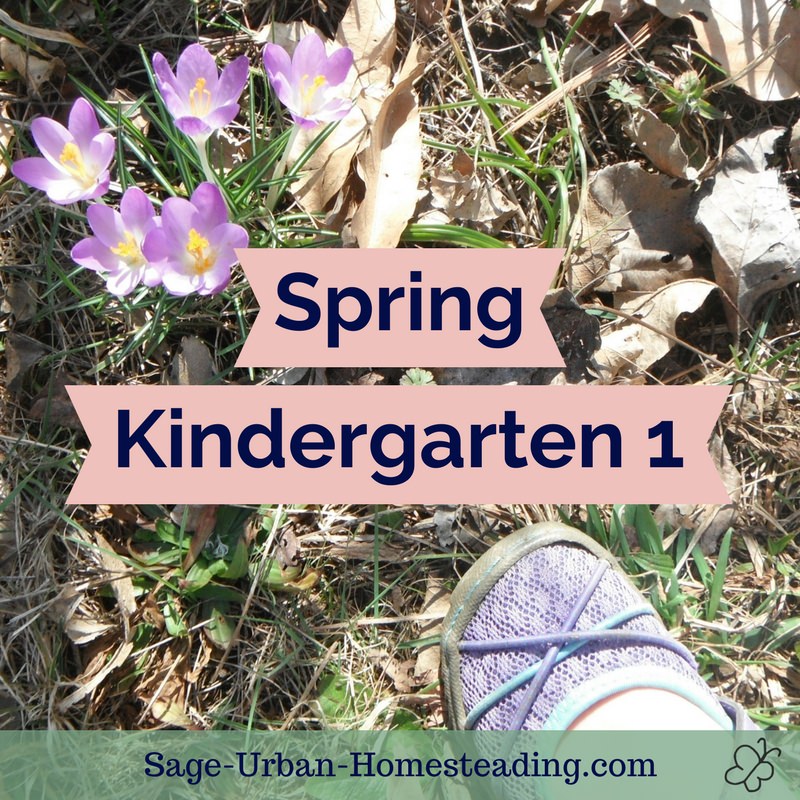 Our Daily Schedule for Spring Kindergarten 1

Our intended schedule for spring kindergarten 1 is...  well, I should say we have the same one hanging up that we started with last fall, but we rarely follow it exactly. There is a rhythm to our day about the order of activities. Meals and bedtime are consistent. Our daily activities are highly dependent upon the weather and how fast we do or do not get dressed.
When we do our story routine, we always start with some exercise (ideally a walk outside), rhymes, and fingerplays. I always begin "Circle Time" (the rhymes and fingerplays part) with the same rhyme, as described in the Waldorf Essentials curriculum. I also have a little song about calling the gnomes and fairies to come that signals it is time to set up the silks and setting for a story.
We also have a different prayer blessing that we sing at each meal, one for breakfast, one for lunch, and one for dinner. Waldorf education likes to use songs for transitions. I used to do bedtime songs, too, but not the past two years or so since she's busy talking to her lovey.

March
For homeschooling spring kindergarten 1 in March, we'll work on letter recognition and lots of other fun topics including rocks and erosion.
April
Follow our adventures for April as we meet Mother Nature in our stories and learn about how plants grow.
May
We're still growing strong through May kindergarten 1, learning about trees and the animals who live in them.

Spring Holidays We Celebrate

The holidays for spring seem so light and airy compared to the heavy topics in fall and winter! I love the symbols of baby animals and flowers.

Remember that Waldorf education can be used for any religious background. These are the holidays we choose to celebrate, and you are free to choose what suits you.

St. Patrick's Day

We celebrate March 17th by wearing green, even if it isn't green day on our week wheel. Sometimes we do a shamrock or rainbow craft. This holiday will be covered more deeply in the Waldorf second grade curriculum.

Easter

We are Christians, so this is a very important holiday for us! We do Easter baskets with small gifts and a couple of larger gifts, too. It is much like Christmas with the stockings and gifts. We go to church with our extended family.
Instead of a Christmas tree, we have Easter eggs to play with! We have eggs out as a toy and have lots of egg hunts inside the house. I also have an egg matching game. We read books about bunnies, rabbits, chicks, and eggs, and do related artwork.

If we attend any community events and receive chocolate or candy, we feed it to our sugar sprites in our fire pit, just like at Halloween.

May Day

This holiday was traditionally celebrated on May 1st. For us, it is always near the weekend of the Maryland Sheep and Wool Festival, so I would say we celebrate that instead. It's something we do every year with special food and music.

Mother's Day

We usually try to do a special craft to have a card or other gift for mom, the grandmothers, and great-grandmothers.

Memorial Day

This is a US holiday where we typically attend a picnic with family or friends. We sometimes visit the cemetery to see the flags on graves, but I know the meaning of this holiday is not sinking in yet, and that's ok.

More to Explore

---