May Kindergarten 2

Here's an overview of what our Waldorf inspired May kindergarten homeschooling looked like during our second year of kindergarten (age 5-6).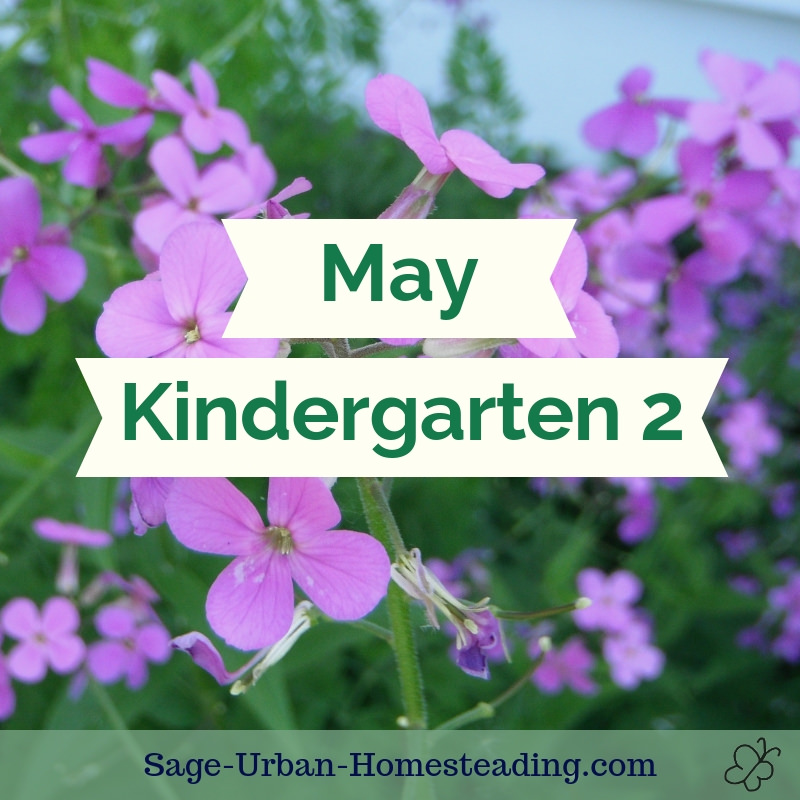 We didn't have as many holiday celebrations this month, but we attended some favorite annual springtime events.

May Kindergarten

Our pocket rhyme this month was "To Market, To Market", the nursery rhyme about pigs and hogs.

Week 1

This week in our Waldorf Essentials story, Sam was planning the shape of his garden. We read lots of books about shapes. A favorite was Wild about Shapes which has overlays to make animal silhouettes out of negative space.

In math, we used the math balance and practiced writing equations. In reading, we learned ck, which she kept mixing up with ch from a few weeks ago. We did the glow-in-the-dark crystal lab that she received for Easter. We had a field trip to Catoctin Wildlife Preserve and Zoo. Out of the various zoos in the area, it's our favorite!

At home, our silkworm eggs hatched. We also checked on the composting worm jar to see how materials have changed and decomposed. We have officially finished our tree study now that we have observed spring and seen all seasons.
We attended the Maryland Sheep and Wool Festival where we saw the sheep to shawl contest and a cheese making demo. We got to touch lots of different wool samples.
We also attended Primitive Technology Weekend at Cromwell Valley Park were we saw a demos about making stone-ground tortillas, fire pit cooking with hot rocks, and lots of other cool stuff.

Week 2

In reading this week we did ng, and in math we did reflections. We copied reflections of rubber band shapes on the geoboard. The STEM challenge was to make an aluminum foil boat to float coins.
We found a small feather for our nature scene. Our nature area is also filled with lots of silkworms eating and growing!
I am getting ready for our homeschool portfolio review. I ordered photo prints and printed out copies of the table of contents  pages from the books we are using.

Week 3
This was a big week in our gnome story when the friend was reunited with  his parents and learned about twin toddler siblings. I got out the gnomes I'd made and she played some.
Sam and the dragon were able to help his friend finally reunite with his parents and twin gnome toddlers.
In reading, we did ng. In math, we did coins. She is using several of the photo prints I ordered to make a scrapbook of all our recent field trips. She really enjoys scrapbooking and is into choosing the background papers and decorating. Usually she does not have  enough will to see projects through to completion, such as on the knitting tower or wooden spoon sanding, but she is doing well with this. I'll give her credit that she did complete some potholder weaving earlier, but usually she lacks follow-through in completing projects.
In our nature scene, we have the glow-in-the-dark crystal that we grew. We found a little snail and a slug that we brought inside to study for a few days. The silkworms are growing and moved to larger arrangement in the basement with redworms underneath to compost the scat as it falls.
This week's STEM challenge was to count and stack cups. For the pocket rhyme, she put together a pig book.
Mom work: I've been researching ideas for what to do to make the end of the year special. I want to celebrate the transition from kindergarten to first grade, but I don't want a "graduation" ceremony or party because I know she wouldn't enjoy it. I like the idea of the rose ceremony done in Waldorf schools, but I'm not sure how to do something similar in meaning at home. I can't even figure out the logistics of how I would buy a rose without her knowing since we always go to the store together!
From talking to other homeschool parents and getting ideas, I liked the idea of having a cake or something to celebrate reading the first chapter book alone. I'll have to remember that one when the time comes.
Week 4
We had our portfolio review, and it went really well!
Our final STEM challenge was a marble drop experiment. It rolled off of gelatin and did best landing in the sandbox. For math, we drew shapes in the sandbox. We finished the second reader book from our reading program. Super Sam's story this week included the Rumpelstiltskin story. For more science fun about motion, we were rolling balls down ramps and having collisions.
Extra Week

This week we tried rolling balls various places outside. We also assembled a balloon rocket to finish up the motion study. We started the third reader book of level 1 in reading. We did a math assessment which simply involves playing games. The purpose of the assessment is to make sure she has a solid understanding of everything before moving on to deeper concepts.
More to Explore

---