Gluten Free Chocolate Chip Cookies

I had a lot of trouble finding a recipe for gluten free chocolate chip cookies. I also needed them to be dairy free, casein free, and caffeine free.
So yeah, chocolate chip cookies with no chocolate.
It doesn't bother me having to avoid chocolate, especially after experiencing my first and only migraine headache as a reaction to having some after I'd been away from it for a long time.

Carob is a suitable replacement to me, although I really don't care for the chocolaty flavor that much now that I associate it with pain.
My favorite type of cookie has always been the chocolate chip cookie because of the dough. I love the way it tastes, buttery and not too sweet. How do you make a buttery melt in your mouth taste with no butter? It is possible! 
Warning: I like my cookies thick and chewy. If you like thin and crunchy, you can try making these flatter so they bake to be more crispy, but I did not try that.

Also, please look at the types of almond flour, coconut flour, and coconut sugar that I used. Other brands might yield different results.
Gluten Free Chocolate Chip Cookies
By Amy DeVries, Apr. 5, 2018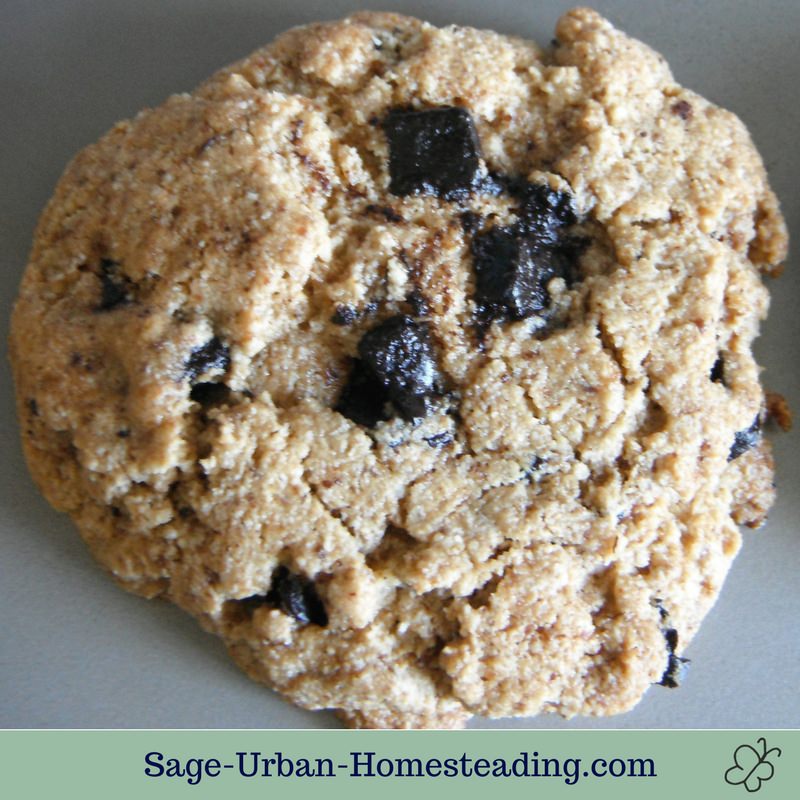 These thick and chewy gluten free chocolate chip cookies can also be made as carob chip cookies to be dairy free and soy free!
Prep Time: 15 minutes
Cook time: 12 minutes
Yield: 1 sheet of 16 cookies
Tags: Gluten Free
Ingredients
Instructions
Preheat the oven to 350 F.
In a medium sized bowl, stir together the almond flour, coconut flour, baking soda, and salt.
In a large bowl, cream together the coconut sugar and coconut oil. I use a pastry cutter to do it by hand, and it does not take long.
Continue using the pastry cutter to mix in the almond butter.
Switch to a large spoon to mix in the egg.
Stir in the carob chips or chocolate chips.
Scoop out the dough into 16 balls spaced evenly across a cookie sheet. Press them down slightly.
Bake for about 12 minutes. Cool before removing from sheet to minimize breakage.
You can sit your coconut oil in the refrigerator for awhile if it is too liquid for creaming. You need it white and solid for this recipe, not runny and clear.
I stored these cookies at room temperature for a day or two with no problems, but you should then refrigerated the rest. Note that they do become more crumbly if warm, so instead of heating them up, I sat them on a plate to warm up to room temperature naturally. I sat them out while I was fixing dinner, and they were fine by the time we got to dessert.
Feedback
I allowed some other people on unrestricted diets to taste these homemade gluten free cookies. They said they detected a slightly nutty taste and wondered if they contained peanut butter. No. It was probably the almond butter that they detected.
The other tasters also universally agreed that these cookies were very rich and filling. According to my nutrition tracker, one cookie is just over 200 calories.
Maybe it is better that these cookies are not from a box and take a little more time and effort to prepare, so I won't make them very often. But when I do want something special that tastes like gluten free chocolate chip cookies, these are delicious!
Update: I was inspired to do an acrylic painting of a cookie using these photos!

More to Explore

---