March Kindergarten 2

Here's an overview of what our Waldorf inspired March kindergarten homeschooling looked like during our second year of kindergarten (age 5-6).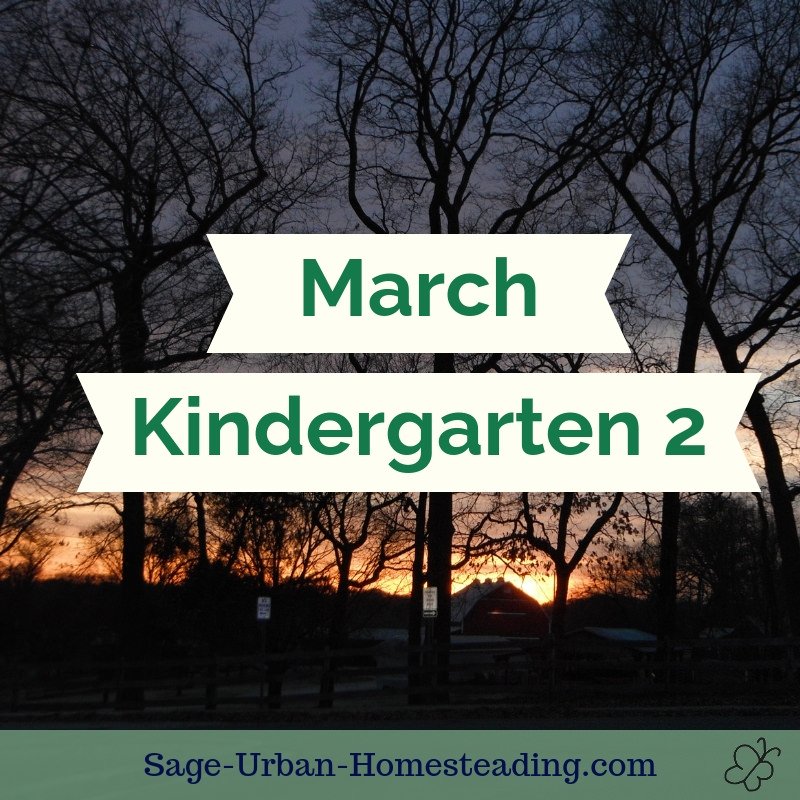 Our holiday celebrations this month included celebrating St. Patrick's Day by dressing in green, learning to dance a jig, and reading books.

March Kindergarten

Our pocket rhyme this month was Rub a Dub Dub. For one of the activities, we made finger puppets of the three men in a tub.

Week 1

Our nature scene now features the samples of particleboard and plywood that she made. She also used her woodworking skills at a Home Depot kids workshop. We started investigating different types of paper.
In math, we made rectangles on the geoboard and with tiles. She also sorted paper rectangles of different sizes. She learned how to read /th/. This week's STEM challenge was to build a marble run that changed directions five times.

We went on some fun nature walks to see a bald eagle nest at Masonville Cove and do an owl prowl night hike at another park. We didn't hear any live owls, but we did hear lots of  spring peeper frogs in the pond!
Week 2

This week in our Waldorf Essentials story, Sam and his friend Toby helped with planting seed babies so we modeled some with beeswax and added them to the nature scene.
This week's STEM challenge was to make a leprechaun lure, which was basically a sensory bottle. We used an old Listerine bottle since it comes with a safety cap. She chose to use some of the soap to make the iridescent kind and added some pompoms in a rainbow of colors.

For art, we did a Tippy Tippy wet on wet watercolor painting of yellow and blue. Also, for science, we made paper by shaking toilet paper and water in a bottle. This method was easier and faster than our paper making with newspapers in a blender last year.

In reading, she learned /sh/. In math, she learned even numbers and counting by 2. She had already figured out even numbers on her own long ago.
I am feeling a bit frustrated about myself and homeschooling as I start to plan first grade. I spent so much time and care to be slow about academics yet she is speeding though and clearly hungry for more, even at our twice a week pace with the reading lessons she's going to end up above grade level next year.
Week 3
I changed the order of our gnome story a bit to have the egg dying story near Easter. So this week Sam is teaching his friend Toby how to make a wooden spoon, and they tell the story of "Hansel and Gretel" while working. This is the first fairytale leading up to two per week in first grade. I bought a spoon base for her to make a wooden spoon. She's not working on it yet because we are waiting for my dad to cut it in half with his saw, and we need to buy more sandpaper, but she knows it's a project we are going to do. This all ties in nicely with the wood study we finished recently.
This week we finished up the paper study by making a papier-mache bowl using art paste. We started a fabric study with 10 different swatches. She loves guessing them by textures in the feely box. We did a Tippy Tippy watercolor painting of yellow and red.

In reading, she learned /ch/ and finished the Run, Bug, Run reader. We also finished our read aloud book The World According to Humphrey which was a delightful story told from the point of view of a hamster who is a class pet and goes home with different people on weekends.
Mom work behind the scenes: I'm about halfway through illustrating the letter related fairy tales. I'm using a black paper sketchbook and construction paper crayons. I'm looking through my Waldorf Book of Poetry and deciding what we will use. I also found a useful free Waldorf video series by Eugene Schwartz.

Week 4
This week Super Sam taught Toby a counting rhyme. Actually, this is April week 1 in the book, but I switched things around for Easter.

She is reading final blends. In math, she practiced writing numbers, did addition on the abacus, and continued studying odds and evens. The STEM challenge was to make a coin sifter. For art, she tried chalk pastels, which I'd given her before but not for a long time. Argh, she is still too messy with them! Actually she was ok on her first picture then I trusted her too much with handling the supplies herself on a second picture.
We studied water snails and seashells. Our newest pet was a big water snail to go with the baby one we've had for a few months.

We celebrated Maryland Day at a park along the Chesapeake Bay. This week she spent lots of time playing outside on her tricycle, rollerblading, riding her scooter, and going to the playground with friends.
More to Explore

---