Autumn Kindergarten 2

We were very excited to begin autumn kindergarten 2 in September 2018! She knew we would be starting more new and exciting things, and she was begging for the first day of school to come.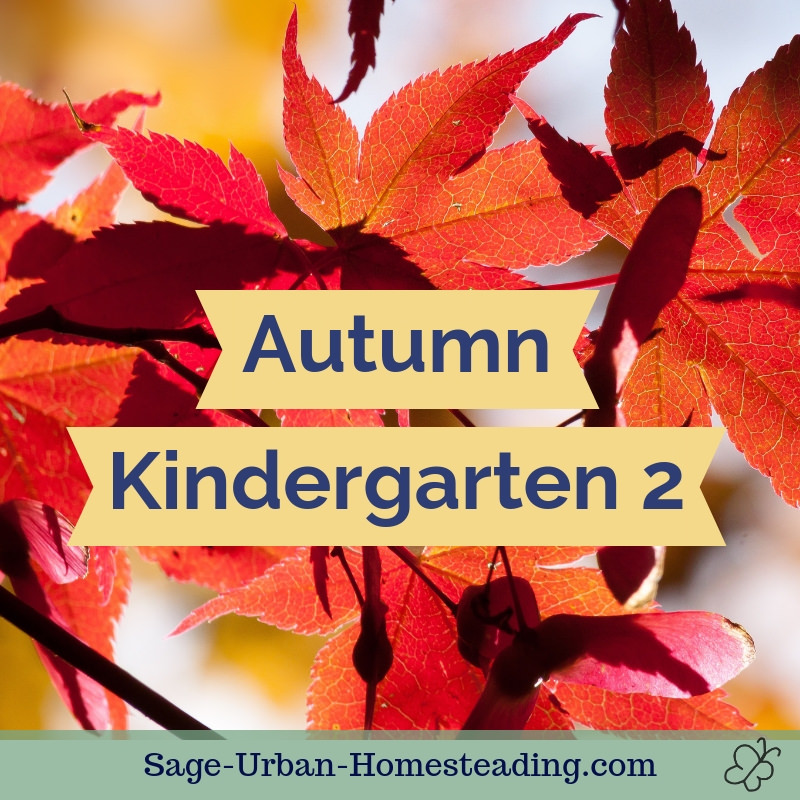 Our Daily Schedule for Autumn Kindergarten 2

For K2, we're easing into the head, heart, and hands sections of the day which will be even more important in the numbered grades. If you want to learn more about that and how to make your own homeschooling schedule, please see my page about that.

Basically, we start each day with a walk and circle time, which consists of rhymes and songs right now. We do the same ones for a week so she can really learn them. Then we have our Waldorf Essentials story, a tree lesson, half of a lesson from our reading curriculum (pre-reading level), and then the activity or subject varies by the day. Every day we have lunch, and she enjoys music, so we end up practicing the recorder each day. We also have daily read aloud time.
Board games are another common way for us to spend school time, and that's how I end up having to explain the concept of weekends and a day of rest! She begged to do more "regular school lessons" on our first Sunday after Sunday school lessons, but I don't blame her when "school" consists of things like playing Scrabble Jr. or Chutes and Ladders and writing in shaving cream!

We are still flexible for days when we want to spend more time outside or have play dates with friends.
We are celebrating the same autumn holidays that we celebrated last year.

September
We began our school year with Super Sam stories about dragons, and kites. We learned to observe trees.

October
We continued our study of trees and weather and observed autumn changes.
November
We studied birds and went bird watching. We also tried some fun STEM challenges about using different senses.

Why is there a 2? Kindergarten year 2?
In traditional forms of kindergarten such as Waldorf and Montessori, kindergarten typically spans the age range of 3 to 6 years old. Children often have three years of kindergarten. We decided on two. That doesn't mean we weren't doing anything before (we were! see tot school), but we started calling it "kindergarten" and doing a structured circle time and story last year.
If you want to use conventional terms, you might say we did "pre-K" instead of kindergarten 1. In conventional terms, I'm not even sure that I would call our kindergarten 2 the same as the modern kindergarten because the modern version is so heavily academic and into early reading. Our style is still very play-based with minimal direct reading instruction, just a little phonics and lots of exposure.
Walking a Tightrope
You will notice a bit of a balancing act as I try to keep my Waldorf ideals and love of play while my daughter would love more academics. I believe it's important for her to play and develop physically and socially at this stage. Mental work can come later!
However, she loves to write notes, and who am I to hold her back? I do have my lines in the sand. One is that I will not encourage her to sound out words or read before age 6-1/2. It's ok if she teaches herself; I'm not "instructing" her.
And I refuse to do multiplying and dividing in kindergarten. All 4 operations are taught at once in the Waldorf curriculum. It's too late to hold back on addition and subtraction -- she has figured them out on her own, which is just the way I would prefer! She does things orally that show me she understands those well, but we are not writing them down yet, and we are definitely not doing math worksheets, although she would probably love to.
This is a little girl who chose to buy a calendar planner to write daily notes in (even though she can't read or write other than copying), and she went through and numbered the pages!
Yeah, but what about Mommy trying to follow the teachings of Rudolf Steiner? I'm doing what I can.

More to Explore

---