1st Grade Homeschooling

Here's an overview of what our year of 1st grade homeschooling (age 6-7) was like. Things did not go as we expected!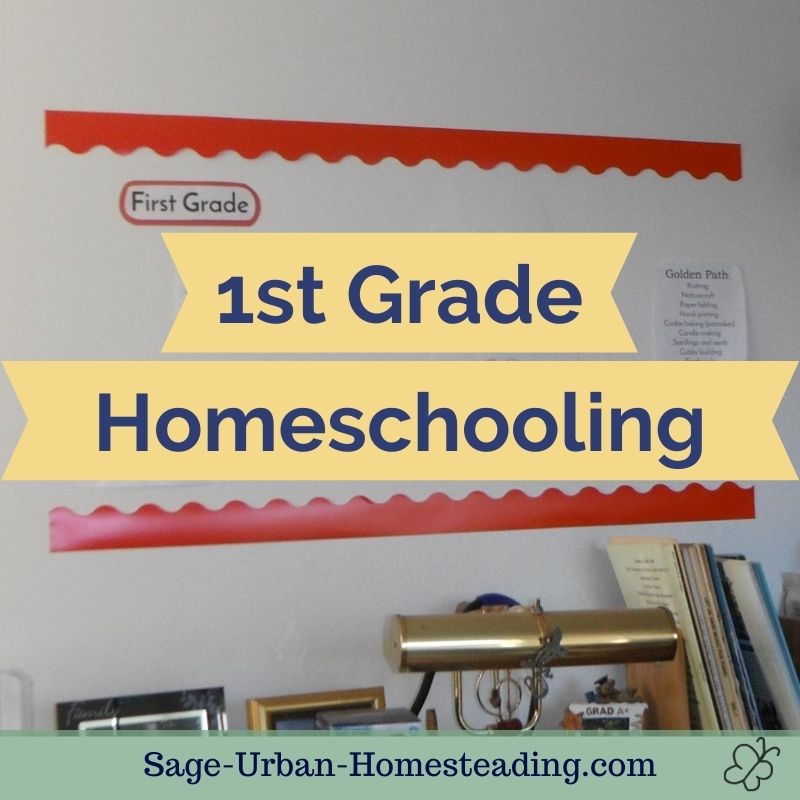 This was crazy year for everyone as a worldwide pandemic hit us in spring. Thankfully no one in our family became ill, but it certainly changed some things about our life. At least we were already homeschooling, so that was one thing that stayed familiar.

Homeschooling a First Grader

My first grader was eager to begin more academic studies at the beginning of the year; however, by spring she was changing. After she was confident that she could read most things, she wanted more independence.
A benefit of homeschooling is that you can change and adapt as they grow and their needs change.

Our Schedule

I used my weekly calendar to plan our daily schedule for each week. 
Not necessarily in order, here is a list of our activities:
Circle time consists of the Pledge of Allegiance (because I want her to learn it), songs from Music Through the Grades, a monthly poem to memorize selected from The Waldorf Book of Poetry, and a word of the day from A Word a Day Grade 1 that we stick on our Word Wall.

During "Head" time each day we do the Waldorf Essentials First Grade book except for Fridays when we do art.

"Hands" time is a practical skill from the Golden Path book such as knitting.
"Heart" time varies by day: On Tuesday and Thursday it is Spanish (with a cuento on Tuesday and a juego on Thursday), Monday has music lessons from Primary Prodigies, Wednesday has social studies and health from a couple of different sources, and Friday is a theme pocket.
20 minutes of All about Reading right after 10 minutes of All about Spelling
30 minutes of RightStart math
1 hour of science
A nature walk plus a second outside playtime
Daily music practice (to entertain the baby while I fix lunch)

She also has a dance lesson away from home once a week.
It sounds like a lot, but it's not, especially with homeschooling. Remember last year she was often frustrated with me for not having more for her to do! 
Fall First Grade

I actually started out taking notes on things for each month...
In September, her theme pocket was "One of a Kind," a great set of about me type of activities that were perfect for a new big sibling. She developed a basic understanding of maps and did a parachute engineering challenge. For All About Reading, she did a review of phonograms, open/closed syllables, and blends.  For music, she did a review of notes and scale degrees. For art, she did a color study about how they look next to each other. In math, she was counting by hundreds and solving problems with 0 ended tens and hundreds. For PE, she was doing bicycling and dance class. She organized a Michaelmas party. She did knitting to make a ball. For naturecraft, she made a plant trellis made of sticks and knots. She harvested chestnuts. She learned Spanish greetings, numbers, things in the sky, and how to say her age.
Our October lessons included health and hygiene (learning about germs, great timing in hindsight!)) for the theme pocket. Science was focused on weather. She added words like meteorologist and anemometer to our word wall. She studied types of clouds and observed the moon over its cycle for a month. In math, she learned the commutative property although we are not calling it that yet. She also studied geometric solids like 2D vs. 3D. In reading, she learned about y as a vowel, closed and open 2 syllable words, and spelling CVC words. Her projects were helping to build a DIY baby gym out of PVC pipes and mixing concrete for a new walkway. In Spanish, we went over the words for body parts. She continued with Primary Prodigies music lessons and studying maps. She worked on throwing and catching, and we started art lessons with mom again (took a break with baby care).
November  brought studies on silent e, subtraction and measuring, Children Just Like Me sticker book about children around the world, a patriotic theme pocket with the Statue of Liberty and patriotic songs, wind, kites, baking pumpkin pie, Spanish family members and house rooms (playing Guess Where in Spanish), swimming and dance classes, and a field trip to an art museum.
Winter
Homeschooling slowed down for December. She did read some interesting Then and Now books, a series we found at the library. She attended a holiday parade, did crafts, and worked on telling time.
And here is where things started to fall apart for us. I became too overwhelmed to keep detailed monthly notes, so this is what I'm remembering later...

We finished the alphabet letter review with Grimm's fairy tales and did Roman Numerals. In science, she studied light and sound. We had fun colored lights at night and days playing with mirrors and shadow puppets. For Candlemas (Groundhog's Day), she hand-dipped homemade beeswax candles.

It was her own idea to plan a big Valentine's party with food and activities. In hindsight, I am so very glad she did that. I also gave her a sewing kit for Valentine's Day which turned out to be a wise decision.

She was into reading about the National Parks after receiving postcards from a fairy penpal.
We were struggling with deteriorating morale and behavior issues. We agreed to stop the theme pockets. I gave up on doing anything structured for Spanish although she's still exposed to it. We did The No-Fault Classroom as a family starting in early February. It helped teach all of us about getting to a state of calm alert and how to communicate more effectively.

By late February and early March, we were looking into other options. I was frustrated with limited time for direct instruction and her not being cooperative. Now that I was busy with the baby, she had to bend to my schedule and do things together when I was available. She complained, "You never let me do what I want to do!"
Our main issue was that she would have to wait for me to be available so she'd start another activity and not want to stop when it was time to work together.
She had no appreciation for how good she has it with homeschooling. I couldn't find much on YouTube showing what a day in public school is like, so we talked to neighbors and asked to see samples of their work and asked them about how long they were away and if they got to play at school and what happened if they didn't do what the teacher said. We even looked into doing shadow day at some private schools in the area so she could see what it's like for others, but then there was a virus in the news and maybe that wasn't such a good idea with an infant at home...
We ordered a set of first grade workbooks from Christian Light Publications so she could still "do school" during school hours and not have to wait for me. I know we could have done "unschooling" but I also know that she would not cover all of the subjects that way, and it would be difficult for me to document it for reviews. I really like the character building and caring for others expressed in the CLP curriculum. I don't like that the social studies workbook said "Indian" instead of "Native American" or "First People," but I used that as a discussion point so we ended up learning even more about how Columbus was lost and confused.

The workbooks were well-received. She liked the independence and included quizzes and tests. The material was largely a review, but she was excited when there were new things to learn, mostly grammar. I was hoping the social studies lessons about behavior and family would sink in.
Spring Quarantine

No more dance class or swimming. Ironically last two dance classes before quarantine were cancelled due to illness anyway. A bad flu in our neighborhood thankfully missed our house. I was glad we had studied germs already.
Just before St. Patrick's Day everything shut down. For us that meant that her grandmother who had been coming to help twice a week suddenly stopped coming. Dad still went to work some, but eventually he was home full-time.
I was thankful that otherwise our schooling stayed the same and our daily routine felt quite normal. Suddenly there were more homeschooling resources available, so we participated in some special activities online like virtual field trips.
For a read aloud book, we read An Ordinary Princess which she enjoyed very much. For science, she studied plants and helped start seeds for our garden.
Easter felt weird with online church although it was cool to able to attend online with family in a different part of country. We missed visiting local extended family.
It was her own idea to sew masks for her dolls and toys. She saw me sewing face masks, and I was glad I'd started her on sewing as a hobby in February.
Our spring portfolio review with the county was simplified. There was an online form instead of meeting in person.
Summer
In early May, we were expecting to see her grandparents in person for the first time since March. She was out riding her bike in anticipation of their arrival and broke her leg. Suddenly her quarantined world even smaller: no backyard, no basement. It was really hard for all of us. Somehow we managed to wrap up first grade. Physical education became a list of physical therapy exercises.

She became obsessed with listening to the Boxcar Children audio books. We really missed using our public library and got back to heavy use of actual books again as soon as we could but kept using the audio book series, too. An enjoyable read aloud was The Tiny Hero of Ferny Creek Library and we now have a yellow note on the wall that says, "Try."
We also read several books about civil rights and talked about the history of slavery and racism. We did not get into the slave trade and details, that will come later, but some books that I thought were especially good were We March (great with the protests marches going on in the news), Freedom Song: The Story of Henry "Box" Brown, and As Fast as Words Could Fly (especially of interest since she has a typewriter). We'd already read about Ruby Bridges before. We are blessed to live in a diverse neighborhood and have a diverse extended family, so we frequently discuss multicultural issues.

In addition to more sewing, she learned the practical skill of chopping vegetables with safety gloves. We liked the books Kid Chef and Sewing School which we got from the library. We purchased our own set of Herb Fairies books and read the first few, but she was unable to look for plants outside or make things while recovering.
Transition to the Next Grade
We continued the tradition we started last year of looking back over what she learned in first grade, what she wanted to do this summer, and what she wants to learn in second grade. I like making those lists with her because I find out what she's interested in learning and share what topics I want her to learn. It gets us excited about the coming year, and the summer list helps us wait and not jump in too fast while I find supplies and get things ready.
Summary of 1st Grade Homeschooling

She is now proficient reader in level 3 of All About Reading. We spent the summer finishing level B of RightStart math.

For second grade, we are planning more independent learning. I still need to help her with reading, math, and science, but I realize that with a toddler those will have to happen when there is another adult around. Nap time is not enough.
Suddenly a lot of friends are asking me for advice about homeschooling. I am thankful that we are already established homeschoolers and have figured out what works for us.
My best advice is to listen to your child and try to meet them where they are in their interests and abilities. It's then your job as teacher to stretch those abilities to the next level. Try to help them understand that. As they grow older, they can appreciate having a growth mindset that things might be hard at first, but you keep practicing and get better and then can learn even more things.

I still say that for us learning is a way of life, not something that happens within defined school hours although this year we had to define the hours a little more clearly and make sure school activities happened before play and hobbies to keep it all in balance. I still say hands on learning is far better than workbooks although I ended up with a child who likes workbooks so we end up using them, too. 
I think the most important thing of all is to keep children curious and interested. It's good for them to ask questions and search for answers. It's also good for them to try putting in enough practice to get good at whatever sparks their interest. The whole point of these years is to explore their place in the world and figure out what their purpose here might be. I am of the educational philosophy that children have gifts hidden inside to discover rather than seeing them as empty vessels to fill.

More to Explore

---