Toy Knitting Patterns
There are toy knitting patterns available for anything you can imagine from animals to vegetables. Like the little knit mushrooms I made?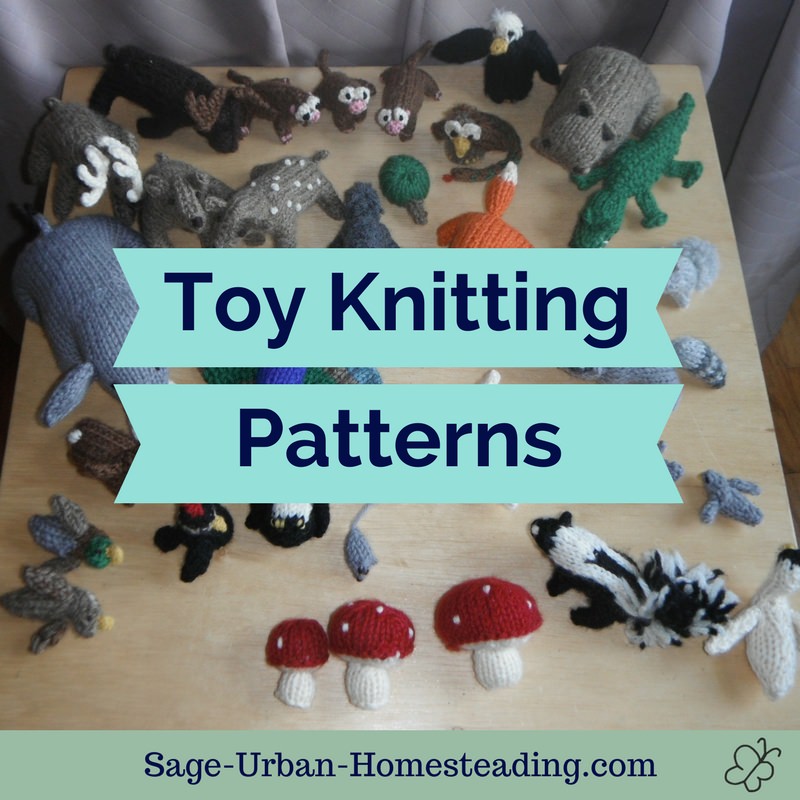 I feel much safer letting babies and young children play with knit toys than something manufactured that might be leaching lead or other toxic chemicals.
Most toy knitting patterns are likely to require double-sided knitting needles since you are working in small circles.
Toy Knitting Patterns: Knitting Animals

I love knitting animals because they are small, transportable projects I can take with me and work on whenever I have a few minutes.
If you know how to knit and purl, as well as starting (casting on) and stopping, the only other knit stitches you need to know are how to increase and decrease. You get lots of practice increasing and decreasing to make the animal shapes with the head and legs.
I've been working on all of these animals over the past couple of years for our Waldorf homeschooling curriculum called "Waldorf Essentials". During kindergarten, which lasts two years, there are stories about a gnome who visits different places and has adventures.
You can follow our kindergarten adventures if you're interested in how we're using these knit animals.

I used Wool of the Andes worsted wool yarn. After knitting, I wet felted them slightly before I sewed them together and filled them with wool stuffing. Wool is used because it has a warmth to the touch, but if you needed washable animals you could use acrylic yarn and polyester fiber fill.

The patterns for knitting animals like this are in Mini Knitted Woodland and Mini Knitted Safari. Each pattern in the book is rated for difficulty. The hardest one I've made was the crocodile because it was several pieces to sew together.

Safety Tips for Knit Toys

Remember that buttons and beads can become detached and are a choking hazard. It's best to use embroidery stitches for details, such as using French knots to make eyes and the satin stitch to make a nose.
Knit toys should be from a washable yarn like acrylic, cotton, or superwash wool, unless you desire the felting effect. It's a great way to use up leftover yarn scraps!
The safest hypoallergenic toys are made with organic cotton yarn, but organic wool fiber that has not been exposed to harsh chemicals to remove the lanolin is also fine for most people, even some who think they have a wool allergy.
Felting Suggestion

I have read that if you make a toy with wool yarn, stuff it with the typical polyester batting, and then throw it in the washing machine, the stuffing will help the figure keep its shape as it felts.
I have not tried this myself yet, and you'd want to be careful of any non-stuffed details like ears, but it sounds like a good technique.
I like to use raw wool fiber to do needle felting.

More to Explore

---