Summer Kindergarten 1

Our homeschool lessons for summer kindergarten 1 include more nature walks and outside activities as well as interesting crafts. We'll spend lots of time working in the garden, visiting friends, and attending activities in our community.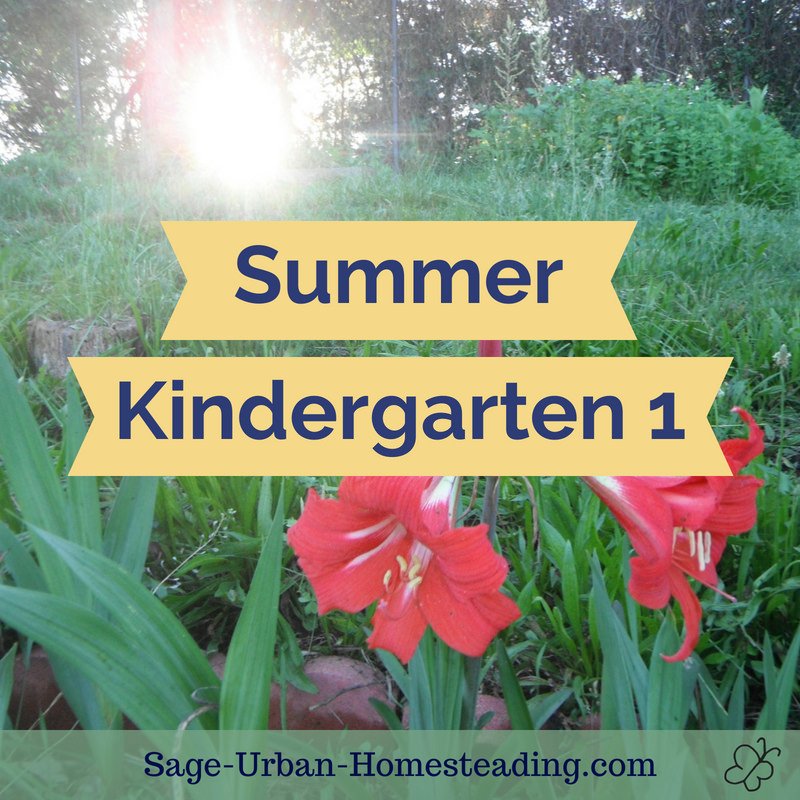 Our Daily Schedule for Summer Kindergarten 1

Our schedule for summer kindergarten 1 has a slightly different rhythm because we are doing more activities outside the home.
Why Homeschool in the Summer
We continue our "school" through the summer because learning is a lifestyle. It is not something we can "turn off" for 3 months even if we wanted to! I feel it is best to keep a sense of rhythm to our days. Each season's rhythm is slightly different anyway. I think you'll find that the summer version is no less educational.
June
The learning doesn't stop for June kindergarten 1 as we study more about the animals in our region.
July
Our homeschooling continues through the hot summer sun for July kindergarten 1, learning about topics like blueberries, bees, and more.

August
This month we round out our summer with some fun activities, wrap up what we've been working on, and prepare to move up to the next level.

Summer Holidays We Celebrate

We live in the Northern Hemisphere, so summer holidays are not as exciting as winter ones. Summer is more about picnics, reunions, and spending time outside with family and friends regardless of whether we are celebrating something or not. There are a couple of holidays worth mentioning.

Summer Reading Program
Ok, not exactly a holiday, but we make a big deal of signing up for the summer reading program at our local library, reading books and doing activities, and earning the completion prize at the end. It usually takes us 2 months or a little more. We sign up at the beginning of summer.

Flag Day

We live near Fort McHenry where Francis Scott Key wrote the "Star-Spangled Banner" so it is important for us to do some flag crafts on June 14th. I like to then display them through Independence Day on July 4th.

Father's Day
We usually try to do a special craft to have a card or other gift for dad, the grandfathers, and we would include great-grandfathers if we had any alive.

Independence Day

We celebrate the 4th of July with family and fireworks, like most Americans. Actually we don't launch any fireworks ourselves -- we have plenty of the natural kind, fireflies! But we see (and hear) the displays around us, especially the big one in the Baltimore Inner Harbor.

Labor Day

This is a US holiday where we typically attend a picnic with family or friends. For many it marks the end of summer and back to school time, but for us, it's just another picnic!

More to Explore

---