June Kindergarten 1

For the month of June kindergarten 1, we'll learn about the different types of animals that live in our area and continue working in the garden.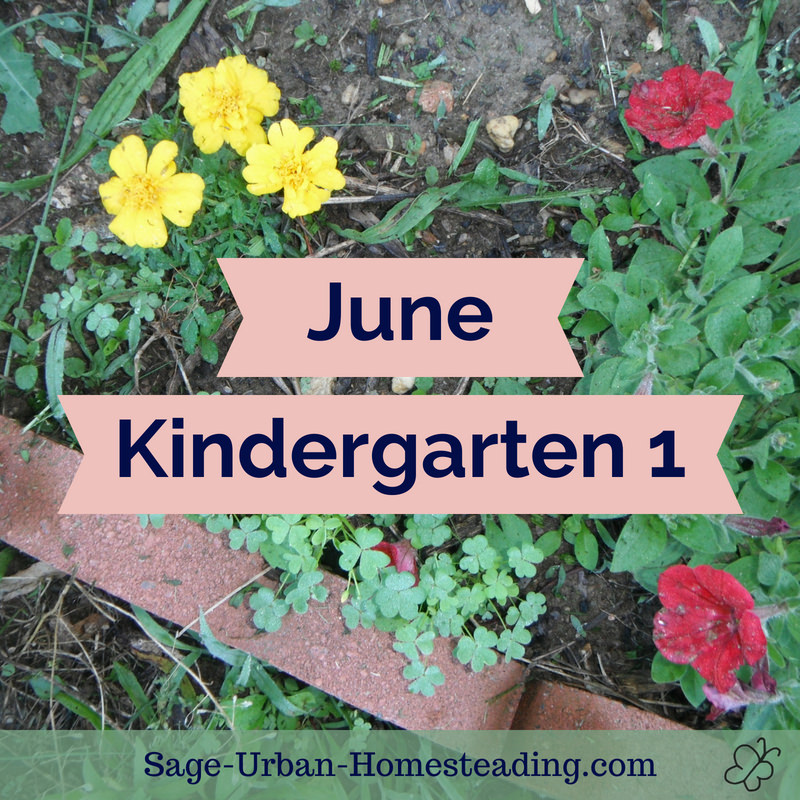 June Kindergarten 1

Our Froebel gift to play with for the month of June kindergarten 1 is Froebel gift 9 , which consists of rings and half rings of different colors in 3 sizes. The same set of colors is available as for the gifts the past two months.
We waited a week to introduce the new gift and spent that week playing with the new quilt block diagrams to use with gift 7 and stickers.
The rings fit perfectly with our letter O lessons in week 2!
First she played with putting the different sizes together. Then I started making faces with them, and she made even more.
Later she had an idea to trace the shapes onto papers then color them in with crayons. This was the first time she had done that with our Froebel objects.

Week 1

Hooray, the silkworms are finally spinning! We did nature observations while collecting mulberry leaves for the remaining caterpillars. We spotted a ladybug one day, observed a disturbed ant's nest we found under an outdoor rug, and most exciting of all, we went out after bedtime to catch fireflies.
In our garden, we planted more annuals and sprinkled red clover seed. Two sunflower sprouts came up. We also stood outside in the rain just for fun after a hot day working in the garden
Our hero Super Sam in the Waldorf Essentials curriculum met Adam and learned about baby animals. The baby birds he met before were ready to learn how to fly.

The other item of interest this week was a Lego set received as a gift. Legos are not a good toy from the Waldorf viewpoint because they do not go from whole to parts, although I suppose they could if originally presented assembled into something. I'm not sure if I agree or not. I try to include plenty of big whole picture experiences to balance it all out. We are not Waldorf "purists" so I won't say no to Legos.

She is still skipping and jumping a lot. Being more playful is a good sign. Unfortunately, still coloring herself with markers is not a good sign, in my opinion!
We attended the Colonial Market Fair at the Benjamin Banneker Historical House and Museum. They had singing, dancing, demonstrations, and crafts for children. We made a yarn doll, tin hole punch star, clay marbles, felt quilt block, and paper pinwheel.

Week 2
This week we had some nice outside time with walks to playgrounds. We even saw geese on a lake while attending a picnic. We also spent time outside picking blueberries and catching fireflies.
Super Sam visited Adam in the meadow to learn about opossums. We tried crawling around and laying down to "play opossum" just like they did in the story.

We had our piano tuned this week, so there was renewed interest in playing the color coded music books from our homeschool music curriculum.
For our homeschool reading lessons about the letter O, we used oil pastels and watercolors to decorate the picture of an octopus. We used the wax resist technique again with a white crayon to paint some flag pictures for Flag Day. We will leave them hanging up through Independence Day.

Week 3
Our walks and outside time this week included a trip to the park. She played with friends on the playground and did really well socializing.
At home, we now have silk moths happily mating and laying eggs. The eggs will go in the refrigerator so we can do it all over again next year.

In our Waldorf Essentials story for this week, Super Sam and Adam babysat for a family of squirrels.

The squirrels were needlefelted. I think they appeared in a story last fall, too. Yes, one of the grown-ups was in the story for October week 1.
She was not behaving well enough to use paint or pens to decorate the letter P page, so she used colored pencils to decorate it with polka dots and color the porcupines. I got to paint a poppy. We attended a library event and met the king and princess from Medieval Times.

We had a gigantic box from some beehive stands that was fun to play inside. She decorated the box by coloring paper and taping it on panels. We pretended it was a bathtub, boat, and rocket ship. It was just fun to sit inside. She lit up at the thought of having her bedtime stories while sitting inside there one night, but ended up doodling notes at her little table instead. We finished the chapter book "Prince Puggly of Spud and the Kingdom of Spiff" which is written entirely in rhyme and was quite fun to read.

Week 4
This week she visited the grandparents and attended Bible school every evening. They had a camping theme this year. She spent time outside catching fireflies before going to bed.
In our story, Super Sam stayed out a night to meet some nocturnal animals. He talked to a bat, just like the one in Children of the Forest.

We made the fireflies actually appear to blink by punching holes in a black paper. Then we had a sandwich of the holey paper, a solid black paper, and a solid neon yellow paper. You slide the solid black one in the middle to make the yellow dots appear and disappear. It was cool!

We decorated our letter Q page by using a Q-tip to paint with tempera paint. We went to Larriland Farm and picked blueberries. We visited a mini zoo and saw many animals. We briefly went fishing with Daddy, but just watched. We were lucky to observe a bat over our backyard just like in Sam's forest!

More to Explore

---