July Kindergarten 1

For the month of July kindergarten 1, we'll continue to learn about the plants and animals that live in our area and enjoy the fresh garden produce of the season.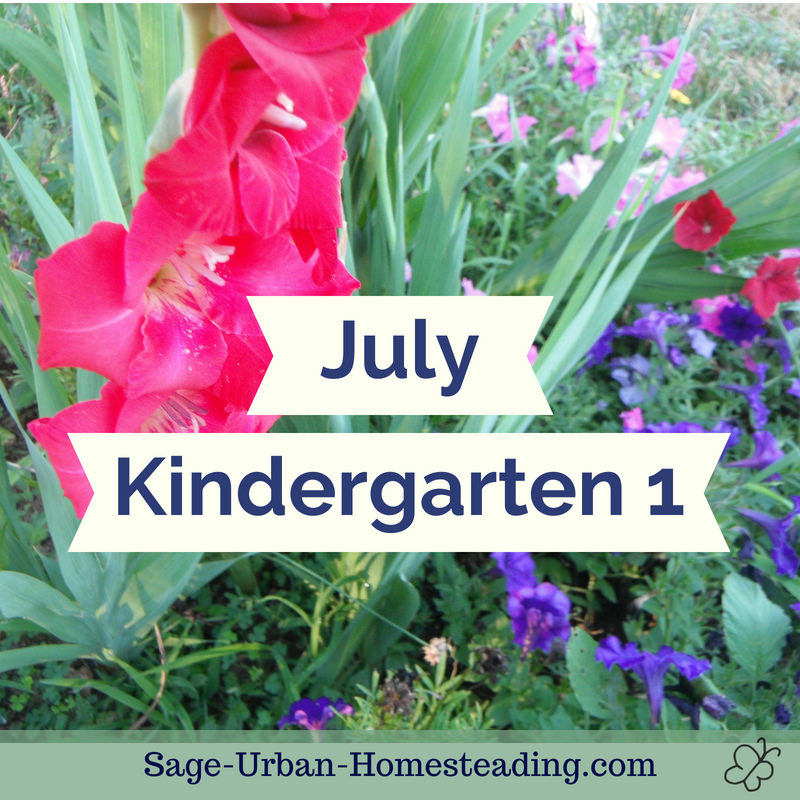 July Kindergarten 1

Our Froebel gift to play with for the month of July kindergarten 1 is an adapted extension not part of original gifts developed by Froebel himself. It consists of wooden pegs in 8 colors (18 of each), a grid of 100 holes, and strings in 8 colors.
The first thing she did was make the first letter of her name then she made flowers and lines with parallel patterns of colors. She has always been one of those children interested in lining up toys.
This set had a high interest over many days and she developed more elaborate designs involving the strings, too. 
It was fun when we counted the holes and she realized there are a hundred!

Week 1

This week we had some fun water play outside in the heat helping to wash the car. We attended some library events and celebrated Independence Day by watching a fireworks show in the distance and by doing a negative space star finger painting. We saw more fireflies and watched more of the bat flying over our yard.

Our story hero Super Sam in the Waldorf Essentials curriculum went to pick blueberries with Papa this week.

The needlefelted squirrel appears in this one carrying a harvest basket. I believe this story is based on Peter in Blueberry Land by Elsa Beskow, but the Maryland libraries no longer have a copy and I did not buy one.
We did find our favorites Jamberry and Blueberries for Sal and read those this week. We also finished Daisy Dawson Is on Her Way as a bedtime read aloud chapter book. It was cute!
We decorated our letter R page by gluing on rickrack and little rubber bands. We tried some papermaking which we'd been talking about doing since the letter P.

We also went to see "The Wizard of Oz" performance by Charm City Players, the same place where we saw "Shrek" in March. We'd prepared for the scary witch by talking about her ahead of time, so I don't think it was too traumatic. She's never seen any movies, only live theater. She loved the part with Glinda and the Munchkins singing and dancing. I loved Toto!

Week 2
This week the weather was more pleasant for time playing outside. At the farmer's market, we saw the special operations fire truck. We attended a Makerspace workshop at the Chesapeake Arts Center and made a robot that draws -- it has markers for legs and vibrates to draw. The robot now occupies the nature table.

Super Sam learned about honeybees this week. We know about bees and beehives!

We learned the Spanish words for honey, bees, beehive, and beekeeping, and a cute little rhyme about bees visiting flowers.

For our homeschool reading lessons about the letter S, we used stickers and stamps to decorate the picture of a skunk. One day we used a sand art kit outside to make some little bottles of sand stripes to decorate our house. With friends, she made a firefly stick puppet that used a glow-stick for the stick.
She discovered a renewed interest in sewing this week, playing with the mesh canvas and ribbon I gave her in a "sewing basket" for her 3rd or 4th birthday. She says she likes the ribbon better than the yarn. She was able to thread the large eyed needle by herself.

Week 3
On our walks we have been noting how tall a neighborhood sunflower is in relation to the mailbox. We spent a day playing at a beach on the Chesapeake Bay.

Unfortunately, she dropped the box of trees as we were setting up the story and broke a piece off the base of a tree. A little wood glue fixed it, but it was a reminder to be careful and that the cut pieces are weaker so they are not good around tots and babies.
Sam the gnome received a flower press from his friend so I gave my daughter a flower press kit. She was very excited to try using it. We picked some petunias, a clover, a marigold, and some leaves to try it out. She turned into a pout-pout fish that it will take awhile for them to dry, a good lesson in patience!
We had another tooth mailed to the tooth fairy in our fairy mailbox in exchange for a gemstone. The mailbox is used regularly for her fairy penpal. She tells her penpal what she is learning and doing, and sends artwork. We made lots of artwork this week inspired by a  fingerprint book. We also played Uno Hearts, Chess, and a knot tying game.
Week 4
This week we went on a walk to a pond where we heard jumps then later heard frogs croaking. We spent time outside making giant bubbles and having water play with cousins. She played lots of games of Checkers with them and some Memory.
In our ongoing story, Super Sam went to the fair this week.

I wrote this story since it's something that goes on in our area at this time of year. The story was about the colored ribbons as prizes and how the gnomes share their best work with their friends. Sam was surprised to find a blue ribbon on his squash.
He also got to see a drop spinning demo. I made the little spindle using a small round piece of wood and a cut toothpick. You can see it in the photo propped against the blue gnome.

More to Explore

---