December Kindergarten 2

Here's an overview of what our Waldorf inspired December kindergarten homeschooling looked like during our second year of kindergarten (age 5-6).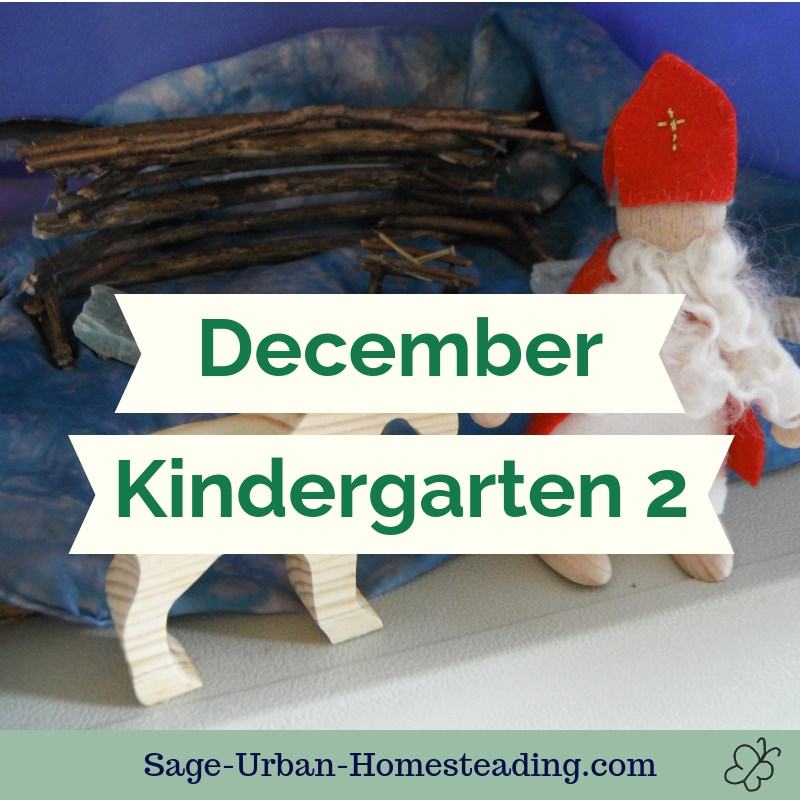 Our holiday celebrations this month included celebrating Saint Nicholas Day on December 6th. He brought her a kit to make her own bubble bath since his scroll said she needed to better job taking care of herself and cleaning up afterwards. She loves it!

December Kindergarten

We did not do a pocket rhyme this month to allow time for making cards, crafts, and baking. We sang lots of Christmas carols, and she played many on the piano.
Overall, we have less planned for this month. I was wishing I had planned less for Thanksgiving week to allow more time for baking, so I must remember that next year. The advantage (or curse?) of homeschooling is that you don't necessarily need to take off on weekends and holidays. I liked the suggestions in Waldorf Essentials to take the whole month of December easy to allow time for seasonal activities and books.
We did the Pastorela story from Cuentos para ver, oir y sentir. It's the Christmas story about Jesus' birth, the shepherds, and the wise men. There are several songs interspersed with the story.
Advent
We always celebrate Advent with a wreath of 4 candles on our table which we light during Sunday dinners. They are tea lights in votive cups with the words Hope, Peace, Joy, and Love written on them in gold, just like the Advent candle themes at church. The cups are purple except for the Joy one which is pink. They sit inside the circular wreath on the table during Sunday dinner then reside in our nature scene spot for the rest of the week.
For the past couple of years, we have also celebrated with an Advent Garden scene in the Waldorf style. The weekly themes are mineral, plant, animal, and human. Each of those elements is added to a Nativity scene. We also have Mary and Joseph journeying to the stable from across the room, then the Wise Men traveling around the room after the star appears. It's cute! We borrowed many ideas, including the wool animal pattern, from The Nature Corner.

This year we also added the Martin and Sylvia Audio Advent Calendar by Sparkle Stories to our Advent celebration. Every day, usually during lunch, we listened to a little story about Martin and Sylvia (who are also homeschooled!) celebrating Advent and preparing for Christmas. The stories came with printable ornaments, so each day I hid the ornament somewhere for her to find it and color it. We had a special smaller Advent tree to hang them on that she was allowed to decorate herself.
Week 1

This week, we noticed a baby snail in our guppy tank that must have come with the plants.

In our Waldorf Essentials story, Sam continued searching for Bessy the cow. He visited the farm to ask the farmer and was given some milk from another cow.

I ordered an assortment of Christmas craft books from the library. I told her to look through and see if there is anything she wants to make for her grandparents. She settled on a paper plate wreath. She traced and cut oodles of leaves then became enamored with the hole punch I gave her for the berries and ended up engrossed in punching all sorts of things, including the leaves she'd cut out. I asked her about finishing the wreath the next day, and she had no interest -- all of the leaves went in the trash, argh!
Wastefulness like that tortures my soul! I like to see things used for a purpose. She could make anything, and I don't care about quality, but I want to see some purpose and plan in why we make things. I know some people are into process art or experiential art, and we did some stuff like that when she was younger but come on, age 6 at the holidays she ought to be able to actually produce something, right? We do holiday crafts for family every year! I am venting my frustration here and trying not to show it to her, lol.
I did chastise her for squishing a toilet paper tube I saved for her to use for the caroling penguin craft when she told me she wanted to make that a few days after she'd squished the tube I gave her for it. Well, she'll just have to wait for another one to be available! 
Now we are on our third time through the alphabet, this time for sounds, in our reading curriculum. We are doing a couple of letters a week but staying flexible for holiday activities. Our STEM challenge was an icy escape to help get treasure (a penny) out of a block of ice. We tried some salt and sitting it somewhere warm. She played with the marble run. She spent one day measuring knit animals and sorting out the mammals and birds, her own idea. She even got out the pegs and designed a table, also her own idea.
Week 2

We continued learning about one bird per day in the Beginning Birdwatcher's Book. She loves anything with stickers.

Sam and the gnomes played in the snow. There no snow here but it was mild enough for a walk to the park to study evergreens and do some bird watching.
This week she enjoyed playing a roll and draw game from Chick-fil-a and making Christmas cards. We did a few more letters. She started working on a scrapbooking album about trees and our field trips.
We attended a fiesta with live music and singing carols and went caroling at a nursing home in English.
She did more in the Never Bored book and especially loved making the snake and snail, which inspired lots of creative play.
Week 3
The bird watching highlight this week was spotting a bald eagle!

Super Sam finally found Bessy and everyone waiting at spiral in the forest for something special to happen. We are left in quiet suspense.
We have been speeding through letter sounds and are now up to /p/. She did some Lollipop Logic, starting analogies.
We used watercolor paints and wax resist to make some Christmas crafts for display (finally! at least she didn't destroy them this time, ha!). We  decorated our house and put up the big Christmas tree. This week we lit the candle of Joy and added animals to the Advent Garden Nativity scene. She loves finding the ornaments that go with audio Advent calendar.
We made gluten-free gingerbread cookies and decorated them. We also spent time visiting friends, having them over, and attending parties. We did some shopping for food since we are having family over on Christmas Day.
She has been playing Uno a lot, also Rack-o and Uno Hearts. I believe that playing games with friends is one of the best ways to do math. It is certainly much better than worksheets!
For a little geography, we look up where our Christmas cards were going to and from on a map.
Week 4
This week we attended Christmas church service with candles passing the light around to everyone in the church. We exchanged gifts with our extended family and Skyped those far away.
In our ongoing story, Bessy the cow gave birth to a calf! It was an unusual time of year, so the farmer came to help by lighting a fire and spending the night with them.

We could not find our firepit even though we searched everywhere. I had to make one out of paper since it was rainy and we couldn't get wood, nor did I want to take time waiting for glue to dry and everything since we'd already spent so much time searching. Remember the missing king last year in December? That's the risk of letting her play with everything, but it's a necessary trade-off. We continued our ongoing discussions about taking good care of things.
We finished the pre-reading level and have now reviewed all of the basic letter sounds.
She spent lots of time playing with new Legos and Lottie dolls. Her most impressive creation was a train built of Legos that could carry the dolls and Lego people to various train stops around the house. Legos are not Waldorf, but I must be doing something right because she is dutiful about getting the dolls ready for bed every night and made a place for them to sleep inside a box, including some little blankets to stay warm!

We watched the Nutcracker ballet. If you've been following us, you know we don't do any screen time other than Preschool Prodigies music lessons, and we favor live performances. But Nutcracker productions in our area are too expensive, and it's more convenient to watch a DVD from the library. It is still a live performance that was recorded, and watching it together is as special as attending a theater, only we can get up and dance along if we so desire.
The game repertoire this week expanded to include playing Chess and Go with Daddy.

More to Explore

---