December Kindergarten 1

Our Waldorf inspired homeschool lessons continue through December kindergarten 1. Winter brings many holidays for us to celebrate, but we are always learning.

December Kindergarten 1

Our monthly Froebel gift to play with for December kindergarten 1 is Froebel gift 3. This consists of a cube divided into eight smaller cubes.
I let her find this gift on the table and offered no instructions. First she arranged them different ways, working her sense of number arrangements. Then she made pyramids stacked different ways to find tallest arrangement. Finally, she made square-diamond patterns reading left to right across the row. 
See how much learning she did on her own? Environment is as important as the teacher. If you give the right stimulus, they can learn so much on their own, and they're ready to learn it and will remember it better.

Week 1

It was cold this week. Our most exciting walk was on a snowy day! It snowed a little one day, so we went for a walk through the neighborhood and cleaned off a neighbor's car. There was enough snow to do a little sledding in our yard.
We started our Advent garden with crystals and shells around the stable and lit the candle of Hope. The Advent wreath is our current nature scene.
We love listening to the free Sparkle Stories podcasts, especially the ones about Martin and Syliva who are homeschooled, and they're offering a holiday story for every day leading up to Christmas, a sort of audio Advent calendar. Highly recommend!
You should also check out the 12 Days of Holiday Prodigies for some free music lessons.

In our Waldorf Essentials curriculum, Super Sam was visited by St. Nicolas! 

When St. Nicholas visited us, he brought some more bells for our music curriculum. He also brought a color coded music book, and she is already reading and playing on her own, left to right. All we had to do was direct her on how to go down one page and then over to the other.
She also figured out how to read the music book and play the songs on the piano, too! We don't have any colored stickers on the piano. We showed her middle C about 2 weeks ago and I believe the ear training also helps her.

We've been working on more Christmas crafts to give as homemade gifts.

Week 2

We added plants to our Advent garden and the candle of Peace to the Advent wreath.
We read one of our favorite snow day books, Stardragon by Andrew Breakspeare.

Super Sam and his new friend celebrated St. Lucia Day by hosting a party for their forest friends to learn about it.

We talked about St. Lucy as being a symbol of light, coming in December wearing her candle crown. (I'm saving the full story for later because I think it's a little violent.)
We made a Christmas collage by cutting a variety of Christmas symbols out of construction paper and gluing them to a background. Next week we plan to decorate it with glitter. And we need to remember not to paint the dining room walls with prune fingers.

The handmade Christmas gifts are finished, now we just need to finish getting our cards ready and deliver everything.
As you probably know, I'm not doing direct reading instruction yet (we haven't played our letter recognition game for months). But she invented her own game this week of finding the letters and numbers from the address labels on empty boxes then "typing" them on her old keyboard. It's a spare keyboard we were trying to get rid of several months ago, but she claimed it for a toy.
I'm so glad we're not having a worksheet battle, trying to "do school" every day, and that these discoveries can just happen naturally!

Week 3

The animals arrived in our Advent garden, and we lit the candle of Joy in our Advent wreath.
Our walks this week were to the mailbox. We are learning to recognize names on envelopes and packages. She has been helping with the Christmas cards and typing addresses on the old keyboard, decorating wrapping on gifts , and decorating around the house.
Super Sam and his friends decorated the forest with a spiral made of pine branches (green construction paper).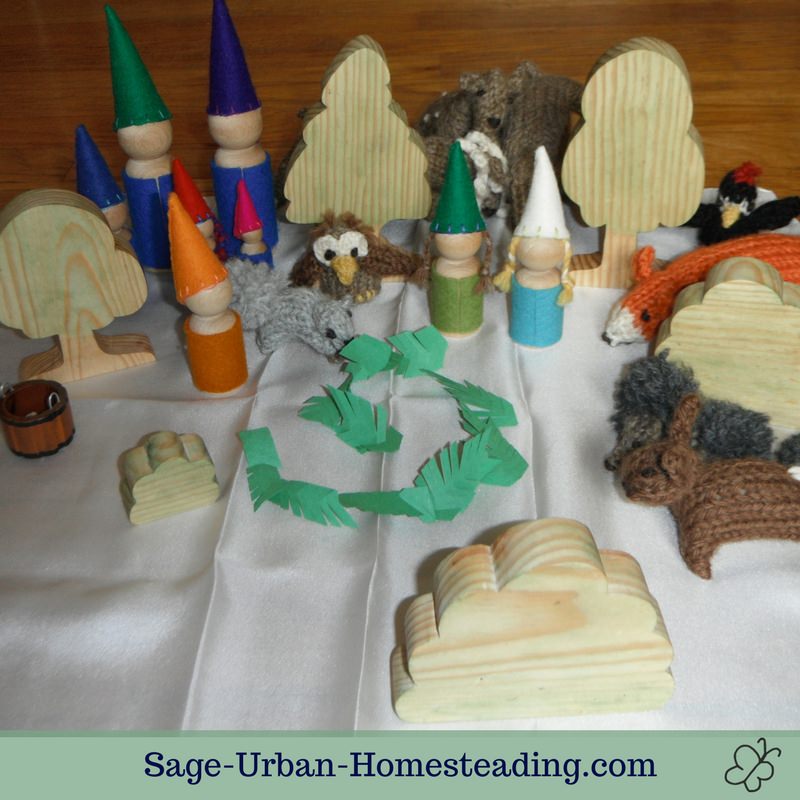 They did this solstice lantern walk that some Waldorf groups do. We don't have the space or group to do it, but it's nice to be aware of the different ways people celebrate. We will learn about other cultural celebrations (Hanukkah, Kwanzaa, etc.) in future years.

For December kindergarten 1, we talked about the fact that solstice is the shortest day of the year and when the sun is lowest in the sky. It shines far into our rooms where it doesn't come in at all in the height of summer.

Most of the math and science lessons this week were found on cookie day when we measured, mixed, used cookie cutters, and baked gingerbread cookies.
We've been enjoying some fun sing along books, this version of Little Drummer Boy and I Want a Hippopotamus for Christmas which I've learned to play on our bells.

Week 4

This week the people arrived in the Advent garden, we lit the candle of Love in the Advent wreath, and celebrated the birthday of Baby Jesus! We give and receive presents on Christmas because Jesus lives in us.
The favorite gifts this year were a paper airplane kit (continuing the origami interest), a marble run set (physics lessons!), a holiday music book to go with our music curriculum, and a little tape measure and calculator.
Super Sam saw the farm family and the gingerbread man run past him this week.

I made the gingerbread man from a piece of felt decorated with glitter glue.
In our story, Sam also noted the differences between a wolf and a fox. We noted more differences in our animal tracking lesson at a nearby nature center, Masonville Cove. It was a family program looking for animal tracks and seeing winter waterfowl.
Brr, what a cold walk with the biting cold north wind blowing across the water!  This was right across the water from Baltimore City and technically within city limits. It's an amazing place we're blessed to have so close.
We saw scaups, ruddy ducks, mallard, and lots of gulls taking refuge in the cove. We learned about a cool website called eBird where you can identify the types of birds you see and follow migrations. We found the tracks of foxes, raccoons  and deer, including the footprints of a doe and baby fawn on the beach at low tide.
More to Explore

---