Homemade Playdough
I have fond memories of the homemade playdough we used to make at a school program where I worked.
It brought everyone together, despite age and language differences, and it was a great learning experience.
Just in the process of making it and following a recipe, the older kids learned how to measure, and the little ones learned how to pour!
Playing with dough helps the hand muscles develop for fine motor skills like better handwriting.

Cheap and Easy Homemade Playdough
By Amy DeVries, Nov. 30, 2013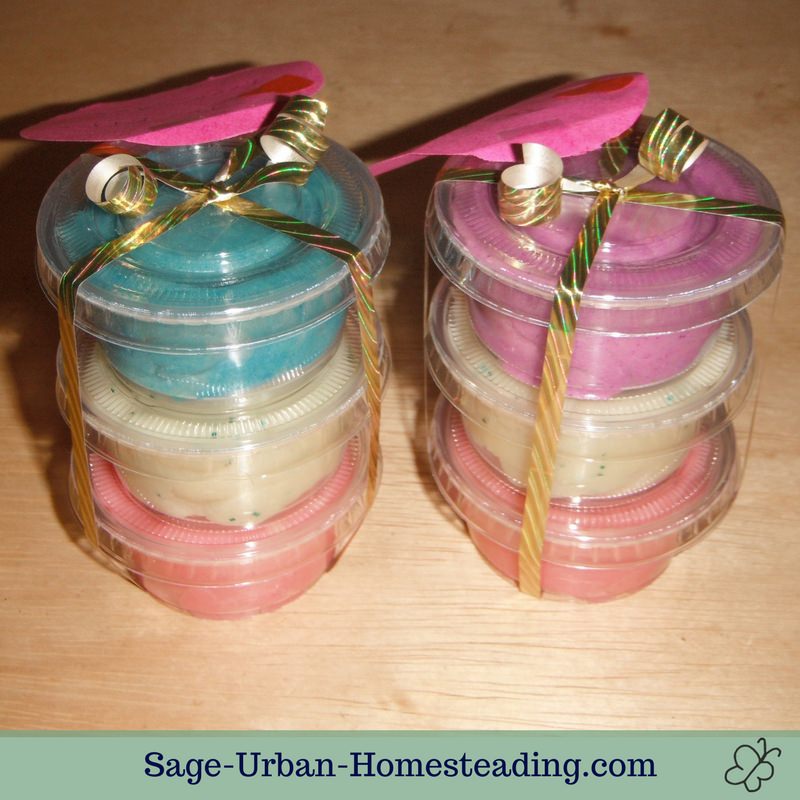 This is a cooked dough, but it's my favorite recipe and keeps well when stored in a container with a lid.
Prep Time: 5 minutes
Cook time: 5 minutes
Yield: 1 large grapefruit sized lump
Ingredients
1 cup plain white flour
1 cup water
1/2 cup table salt
2 Tbsp. canola oil
1 tsp. cream of tartar
(optional) food coloring or liquid watercolors, glitter, spices, etc.
Instructions
Put all of the ingredients in a pan on the counter. Allow your children to help measure and pour! Once everything is together, let them stir it a few times.
Take the pan of ingredients and place it on the stove on low-medium heat, stirring constantly. It only takes a couple of minutes to become a stiff dough.
Remove it from the heat and knead with your hands. Let the children help when it's cool enough for them.
We made a batch at the school every month. At home, it's not used as often and has a tight lid, so it has lasted for 6 months! Maybe it could have gone longer, but that's when I say it's past time to make a new batch. I aim for every 3 months.
This recipe is not gluten-free. Are you shocked?
I have not had a problem with my child eating it, and it's so salty most kids don't go beyond one lick. We're not that sensitive, and the gluten proteins are good for making a nice pliable dough. Maybe you could use cornmeal or rice flour, but I haven't tried them.
Actually, if you know me, you might be shocked by several of the ingredients in this recipe, but remember we're not planning to eat it! I want cheap ingredients for playtime.
Homemade birthday gifts: We like to mix up a plain batch and divide it. Then each section gets a different color, scent, and glitter, and we knead it to mix it all up. We place them in little clear plastic cups with lids. The recipients loved it!

More Homemade Playdough Recipes

My absolute favorite book with a variety of playdough recipes, cooked and uncooked, edible and types to dry for painting, is Mudworks: Creative Clay, Dough, and Modeling Experiences by MaryAnn F. Kohl.
I can't recommend this book highly enough! I requested it as a gift for my baby's first Christmas.
Here are some other ideas for making your playdough more interesting. Try adding:
Some spices like cinnamon, cloves, or nutmeg.
Essential oils like vanilla extract, peppermint extract, or lavender oil.
Bits of things like glitter, dried flower petals, or seeds.
You see how it's easy to keep things exciting. Make a new batch each month to reflect the changing seasons and holidays.
Playdough Toy Suggestions
The best playdough toys are things you already have around your kitchen. Since we're using homemade playdough with safe ingredients, these tools can be used in regular baking, too. Try cookie cutters, icing presses, and noodle makers.
I'll confess I did buy some tools specifically with playdough playing in mind.
I want to encourage open thinking and creativity, so I got a basic shapes cookie cutter set.
I also wanted a wooden dough roller the right size and shape for my little one who can't move Mommy's heavy marble rolling pin!
We got a 6 inch mini wooden rolling pin that we store on the playdough shelf.
Electrical Playdough

I discovered Squishy Circuits and bought supplies to try it, and it will definitely be part of our homeschool science experiments! It's using special homemade playdough to create electrical circuits that light up little LED light bulbs.

Experimenting with electrical playdough, 4 years old
The current is mild, but we do talk about safety and not touching the dough directly when it's "on". Actually the biggest danger is if the two probes touch each other and it ruins the battery. I stay right there to keep an eye on things.

This toy is certainly fun for all ages!
Update: I see you can now buy a Circuit Clay Science Kit if you don't have time to make it yourself. I have not tried this kit, but it looks really good.

More to Explore

---