Basic Crewel Embroidery Stitches
The basic embroidery stitches used in crewelwork form the foundation of many other embroidery methods.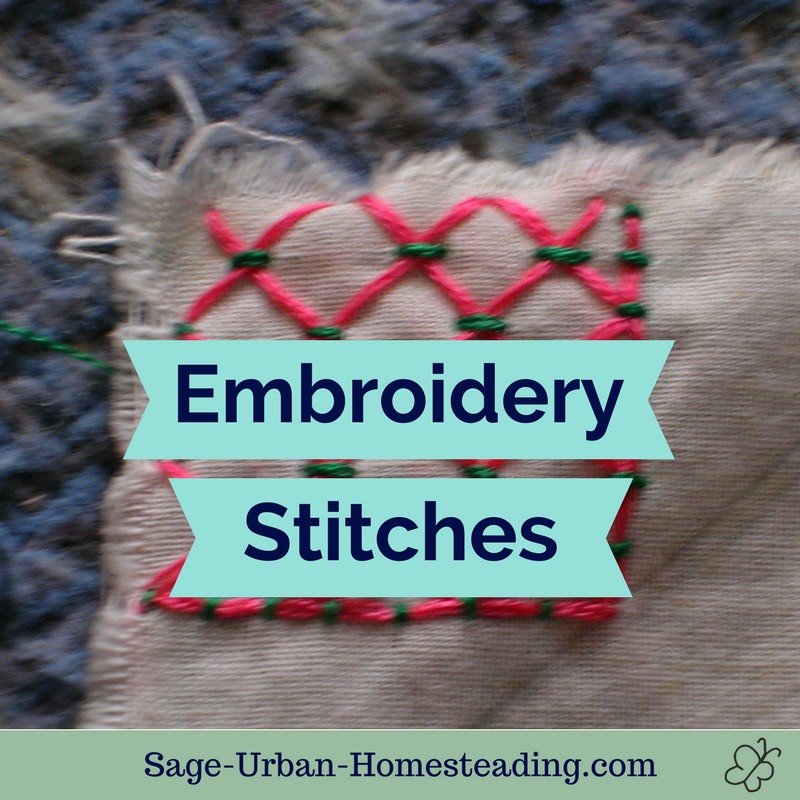 Crewel is a freeform embroidery worked on non-evenweave fabrics and therefore it requires a sharp embroidery needle.
You can use any thread for stitching, even thicker ones such as all 6 strands of embroidery floss.
The stitches form bold, heavy work.
Use fabric heavy enough to support the work.
Basic Embroidery Stitches
These are the most common stitches. They frequently appear in other embroidery techniques, too.
Backstitch

Point the needle halfway back through the stitch you are making. Stitch it straight as in cross stitch or use the other side as the right side to overlap, creating a slight angle a thicker line. Backstitch is often used to outline areas filled with satin stitch. A common variation is the double running stitch used in blackwork.

Seed Stitch

Make two small straight stitches next to each other. Use the seed stitch to do subtle shading and filling by powdering areas with random seed stitches.

Satin Stitch

This creates a solid filling on both sides of the fabric by making long, parallel stitches. A common variation is to shade two colors together by overlapping long and short embroidery stitches, as is often done in bunka. The satin stitch can also be padded by working over other small stitches or a piece of felt.

Blanket Stitch

Work the blanket stitch over a fabric edge. It's often seen around applique. You can vary stitch lengths and spacing. Do it tight with no spacing for a buttonhole stitch.

Chain Stitch

Loop the thread around the needle once to catch it in the next stitch. The lazy daisy variation is made with single chains. Try making a wider chain stitch for a square ladder effect.

Featherstitch

This is like the chain stitch but only half of the next stitch is inside the last one. The fly stitch variation is made with a single feather or fern.

French Knot

Wrap the thread around the needle twice then make a stitch. Don't pull too tight. It took me awhile to learn how much tension to use. I highly recommend practicing on a scrap until you get it right. The bullion stitch variation is made by wrapping around the needle more times to create a little worm.

Couching

This is a way to include larger or textured threads you couldn't sew with otherwise because they couldn't handle the friction of going through the fabric. Lay the large thread in any pattern or arrangement and secure it in place with stitches of a smaller thread over top.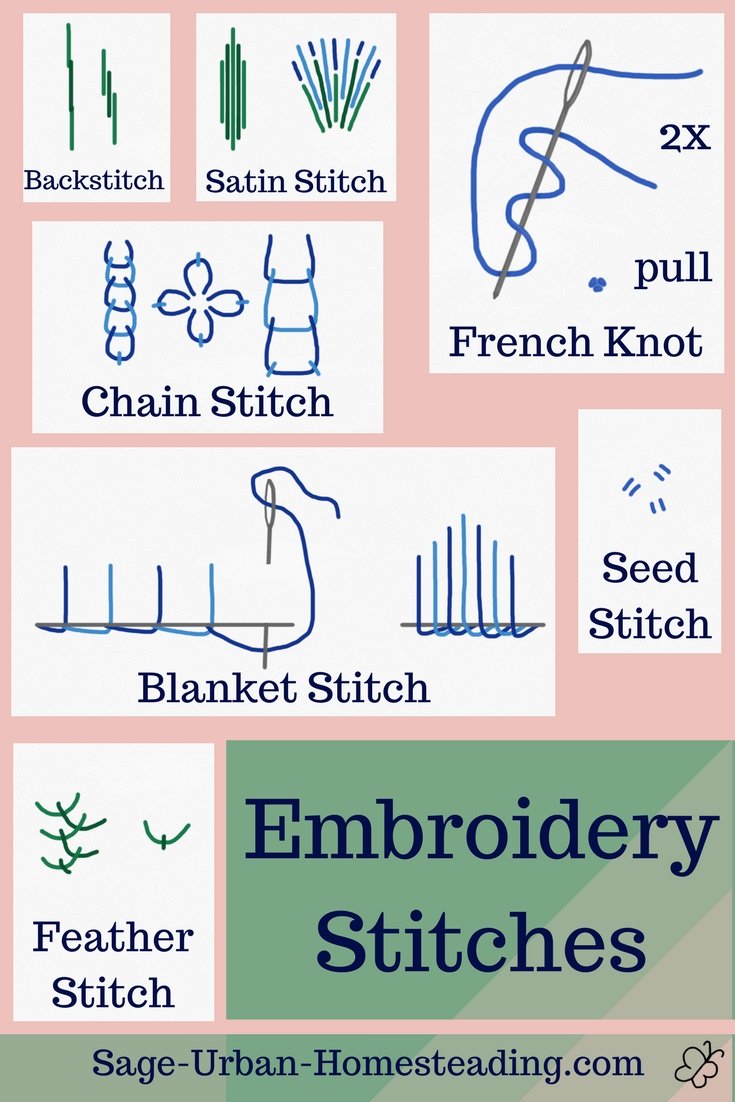 Advanced stitches combine these basics into more elegant and complex shapes.
If you want to learn how to do embroidery stitches, I have a downloadable embroidery sampler pattern that walks you through all of the basic crewel stitches with lots of photos.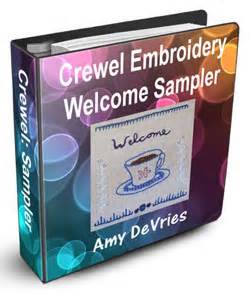 Welcome to Crewel Embroidery Sampler Pattern
This is an ebook just like the huck embroidery patterns available in my online embroidery patterns shop. As you make the easy teacup design, I walk you through step by step with many photos. I cover all of the basic stitches listed above.
Buy it now on Amazon or Smashwords.
More to Explore

---