Crochet Poncho Patterns and Styles
It's easy to dress in the retro style using crochet poncho patterns. Handmade crochet ponchos were popular in the 1970's during the colonial revival when there was an increased interest in handcrafts.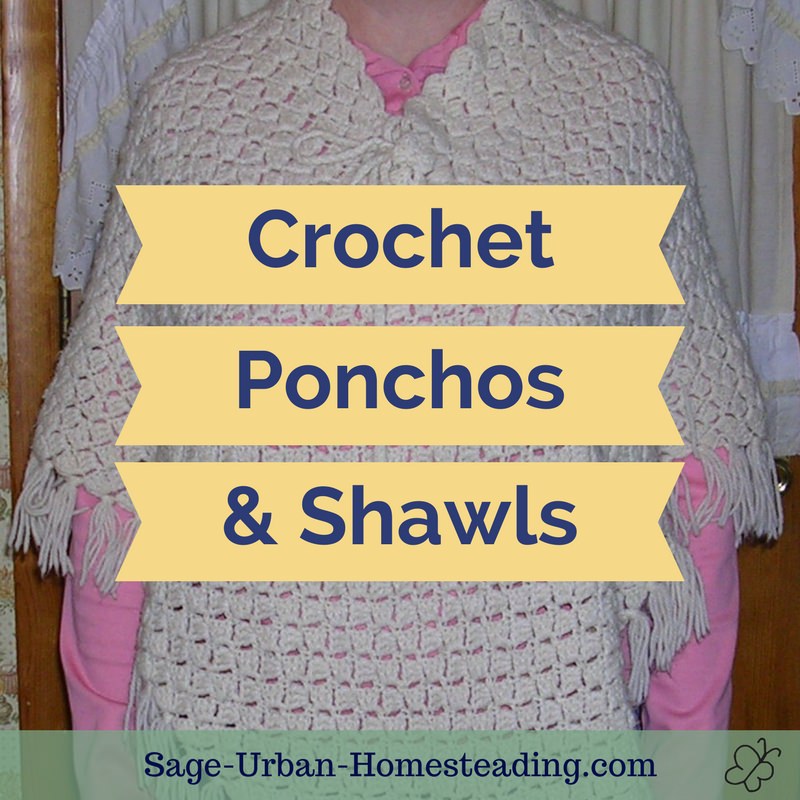 Here's my mom's old vintage poncho in a neutral color off white yarn. She doesn't remember who made it, but it wasn't her.

Modern Revival of Crochet Poncho Patterns

Crochet poncho patterns are popular once again since they can hide the overweight figure and so many Americans are suffering from obesity or just self-conscious from the revealing fashions portrayed in the media.
Since they provide modesty, crochet shawls and ponchos are also perfect for nursing mothers.
Crochet Shawl Styles

A crochet shawl used to be the first costume piece for creating a granny character, but they can be quite elegant and modern, too!
Traditional
For a classic shawl, find a design with a triangular shape or shaped like a long rectangle. A pattern with open stitches resembles lace.
This fashion plate detail from 1845 was provided by the Library Company of Philadelphia via Flikr.
Prayer shawls are usually made in a traditional style.
Modern
Use bright colors and fancy yarns to make an elegant and interesting modern shawl. Dark colored yarns with metallic accents look nice in an evening shawl.
Some shawls are thick and good for cold days while others are light cover-ups for modesty. Light shawls are also great with sleeveless outfits. It's an easy way to add some modesty and have something in case the temperature gets cooler in the evening or inside a place with too much air conditioning.
There are a lot of attractive designs. You can have a lot of fun wearing ponchos and shawls!
Crochet Shawls for Our Wedding

I made crochet shawls for my maid of honor and bridesmaid to wear at my wedding. I let each one keep the shawl as a gift.
I used the Small Talk Shawl pattern I found for free on Ravelry.
I had to make two different sizes so they would wrap around the same way on both ladies to meet in the front, so I added another section.
Wearing the shawl
The larger shawl is pictured in the photos. It was held in place with a hidden safety pin. Doesn't she look nice?
I used a variegated yarn that contained some acrylic, mohair, and wool. It was pretty, but I wouldn't use it again since it was hard to pull out if I made a mistake.
More to Explore

---