Crochet Baby Patterns
There are plenty of cute models for crochet baby patterns! A lot of people are motivated to try crochet because they see a really cute pattern and want to make it for someone very special.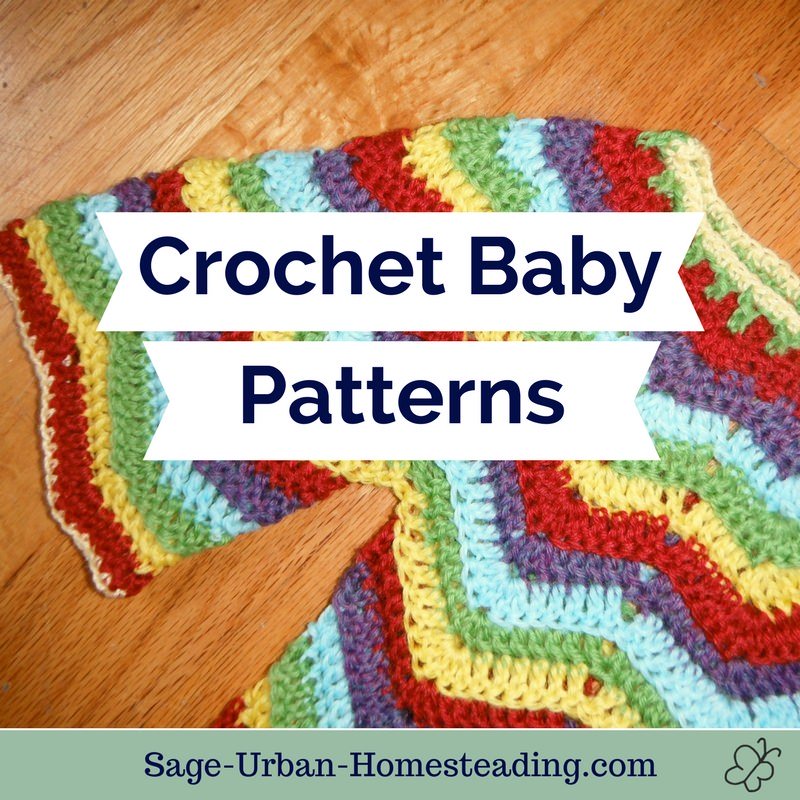 Safety Measures with Crochet Baby Patterns
An important safety issue is buttons, sequins, beads, or anything else that could be pulled off by a baby and pose a choking hazard. Please watch out for these details in crochet baby patterns and anything you intend to give a baby or toddler.
If you are making something for a child under age 3, use embroidery stitches to add decorative details like eyes on toys.
Sleep Sack

I made a sleeping sack for a friend as a baby shower gift. The pattern was found among the crochet baby patterns in Crochet for Babies and Toddlers, and I adapted it to have a slit at the back so a seatbelt could pass through. She was due in the winter and would spend time traveling to grandparents, so it was a good idea.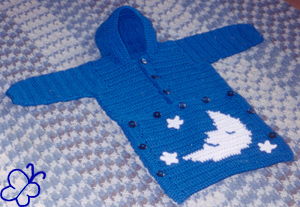 The moon and stars are so cute! Pattern from Crochet for Babies and Toddlers
Reminder
When you give a crochet baby gift, include a little of the yarn for future repairs.
The baby loved it so much that they started using it all of the time to help the little girl fall asleep!
There are buttons, but I sewed them extra strong, and the parents knew to keep an eye on how securely attached they were.
The only damage the baby caused was chewing a part of the stitching loose near the hood, but it was easily sewed back together.
Rainbow Baby Cardigan Sweater
I had an early miscarriage with my first pregnancy, so I was hesitant to accept it when I found I was pregnant again. A baby after a miscarriage is called a "rainbow baby" because it's like the reassurance of a rainbow after going through a storm.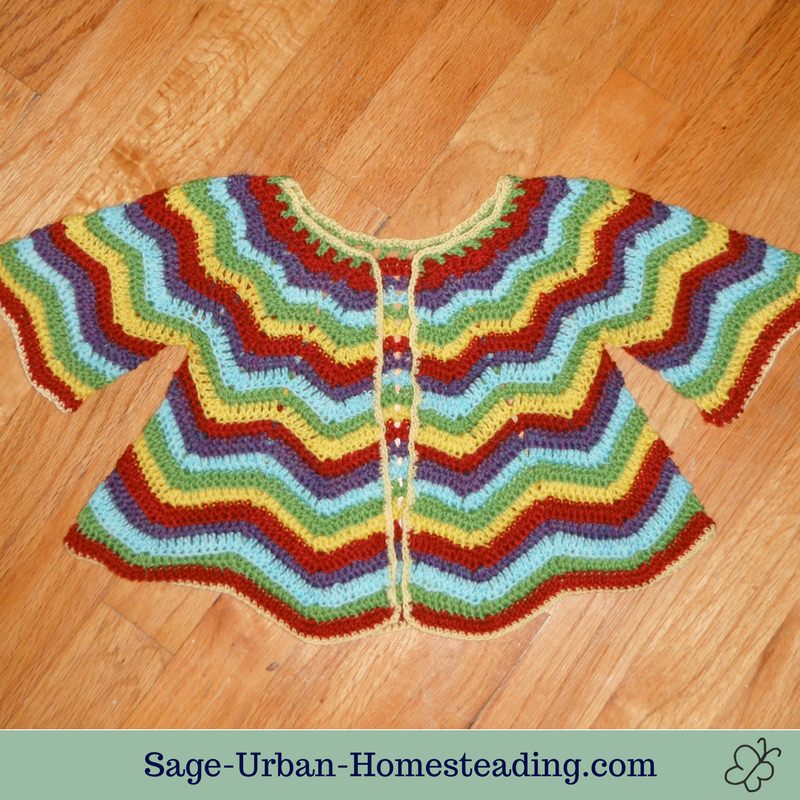 A lovely rainbow! Pattern from Ravelry.com
I wanted to make something hopeful to honor my little rainbow, and I wanted it to be gender neutral. I celebrated making it past the first trimester by buying the yarn to make this. This is the first piece of clothing we had for our new baby!
I got the pattern from Ravelry.com. I used superwash wool in fingering weight and a size F hook.
The stitches are mainly double crochet as you can see in the photos. It's worked in the back loops to add to the ripple texture.
Crochet Toy Patterns
My favorite parts of baby crochet are the crochet toy patterns!
I remember receiving a little crochet bear in a dress and playing with a crochet Humpty Dumpty egg. I treasured them over the years and still have them.
Crochet toys are also great because they're washable if you use washable yarn and stuffing.
If you use a pure organic fiber, you can be sure that they are even safer than plastic toys made who knows where that could possibly contain lead or other dangerous substances.
Toy patterns are usually fast and easy, and they're also a great way to use up yarn scraps!
Baby Layette Pattern
A baby layette pattern usually includes a blanket, booties, hat, and sweater. You don't have to make the whole set to have a nice gift.
My grandmother chose the crochet baby sweater from a layette pattern, and I made it for my cousin's daughter, which was my grandmother's first great-granddaughter.
I used Red Heart baby yarn, multicolored with pink and purple. Washable yarn is great for babies and toddlers.
And I was careful to include a little of the yarn in case it was needed for any future repairs!
For more great crochet baby patterns, I also recommend the Free Vintage Crochet Patterns website. It features free antique and vintage crochet patterns dating from 1850 to 1950.
A baby layette pattern often includes directions for how to make crochet baby booties. They are so small, cute, and fun to crochet!
Tips for How to Make Baby Booties
Here are some ideas for making booties:
Too large is better than too small. Give the toes some wiggle room.
Use Velcro or tie closures to keep the size adjustable as baby grows.
Pompoms are a bad idea for all but the smallest newborns, since baby loves to grab and pull.
For babies that are walking, use some fabric paint on the bottom to create a non-slip tread.
When the little one has outgrown the booties, use them for doll clothes, or stuff them to make a pin cushion!
More to Explore

---