Crochet Stitches
The hardest part in learning how to crochet is getting started. The crochet stitches themselves are fairy easy once you have some crochet supplies and understand the basics.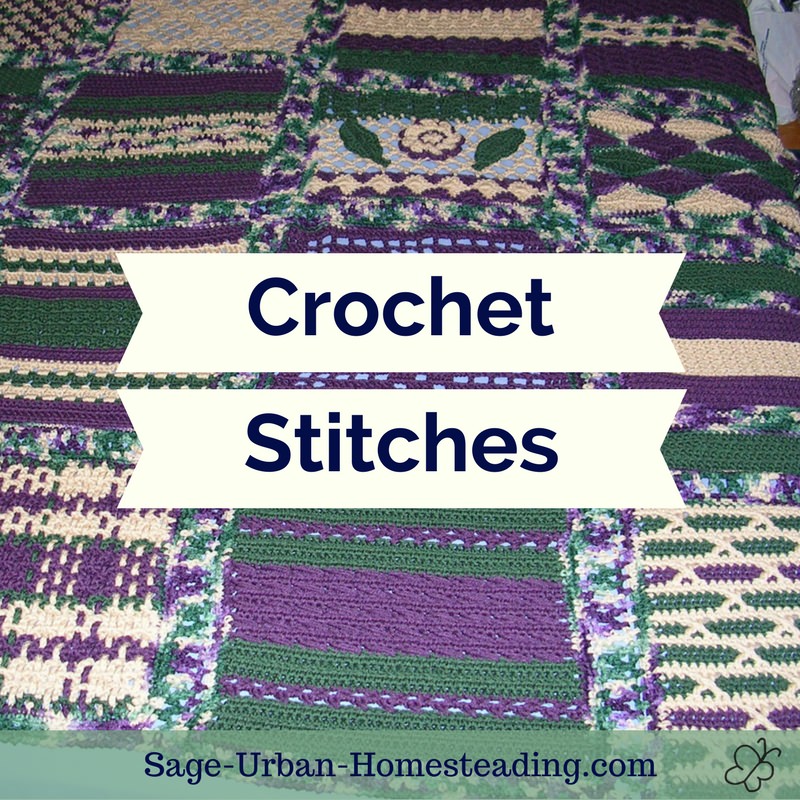 Foundation Chain
Nearly all crochet patterns start with a foundation chain. Stitches for the first row are worked over the top two strands. In future rows, stitches are usually worked over the top two strands which resemble a chain.
Basic Stitches
The basic stitches used in most patterns are single crochet and double crochet. I explained single crochet when I told you how to crochet.
For double crochet, use a turning chain of 3. Wrap the yarn around the hook handle before inserting it through the stitch. Yarn over right to left and grab the loop. You should now have 3 loops on the hook. Yarn over again and pull it through two loops. Repeat.
With single crochet you go through the 2 loops once. For double crochet, you go through 2 loops twice. Guess what treble crochet is? Wrap the yarn around the handle twice, and then end up going through 2 loops three times!
For half double crochet, you wrap the handle once as for double crochet, but go through all 3 loops. It turns out a middle stitch size between the heights of single and double stitches.
Ribbing
Work in the back half of the chain at the top of the stitch. If you do that on every row while flipping sides, it creates horizontal ridges.
Cables
Work around the post of a stitch in the row below to create a textured pattern on one side of your crochet.
Popcorn, Clusters, and Wraps
These are common crochet terms for special stitches that create texture. The normal single, double, or treble crochet stitches are joined together to create a bump.
If you really want to know the differences first hand, you should do the crochet sampler found in Crochet Your Way. Keep reading below to see a crochet sampler I made using that pattern.
Advanced Crochet Stitches

There are many advanced stitches that combine these basic stitches an various ways. To learn more and try them out, make a crochet sampler (see below later on this page). It's the best way to learn crochet.
How to Change Colors

For changing yarn colors, pull the new color through as the last time going through two loops. This leaves a loop on the hook that will become the top chain of the next stitch.
Crochet Sampler Patterns

When I first learned how to crochet, my first large projects were afghan crochet sampler patterns. I made one for the sofa, one for the bed, and another that I sold at the local farmers market.
Samplers are a great way to learn a variety of stitches and how to use multiple colors.
My favorite design, which I used for the bedspread and made another to sell, is found in one of the best crochet pattern books, Crochet Your Way.
I chose a multicolored yarn that I used for the space between the blocks and border, and I pulled the other yarn colors from the multi.
My friend and I used to meet for lunch and carry the blocks with us. I think her colors were based around a red, green, and beige multicolored yarn.

It's easy to fit a block and skein or two of yarn into a bag and carry around. I liked that the blocks were small and portable.
Each block received a simple lace chain edging. This helped get them all to exactly the same size dimensions.
I then joined all of the blocks together at the end to finish it and turn them into a crochet afghan.
You could use two blocks to make a pillow cover.
Overall, I really enjoyed making the samplers and it was a lot of fun trying new crochet stitches!
More to Explore

---