Crochet Projects
What else do you like to make? Here are some of my other crochet projects that didn't fit in the other sections.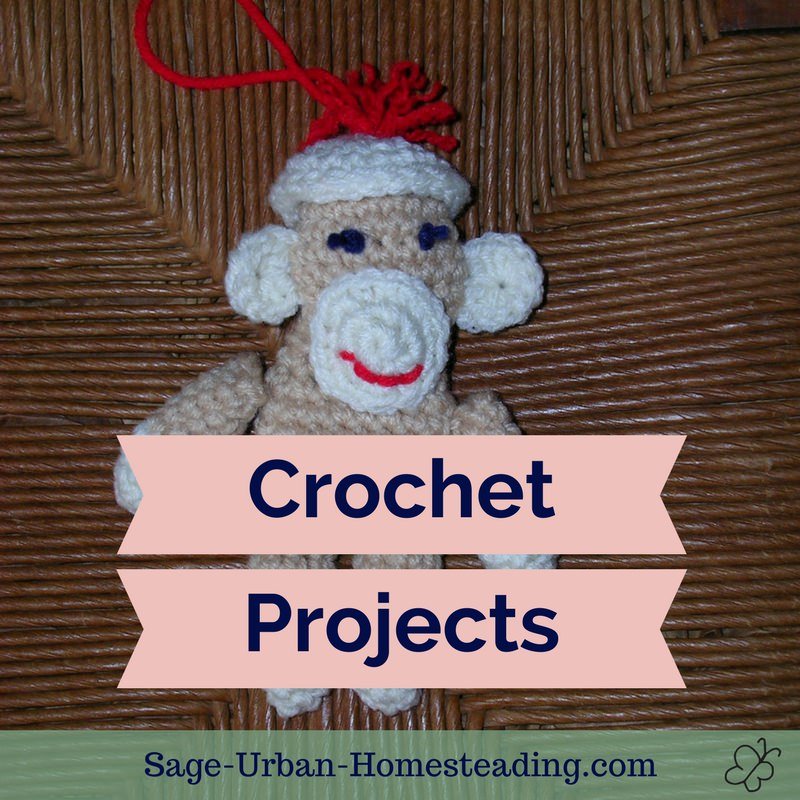 Crochet Mitten Gloves

My husband had an old pair of convertible mittens / fingerless gloves (aka "glittens") that he loved and wanted to replace. So I offered to crochet him a pair for Christmas.
I used this free pattern and worsted yarn scraps.
I added some velcro on the back of the mitten pocket and back of the hand so it can be secured up out of the way when you're using them as fingerless gloves.
The project was very easy since it was all single crochet. The hardest part was sewing in all the ends since I had to stop and start for each separate finger.
Crochet Sock Monkey Ornament

I used the free crochet pattern for a sock monkey ornament from Red Heart that I listed in my blog awhile ago. I made it for the holiday gift exchange at work. I had leftover yarn in those colors. It didn't take much, and I got to use my favorite G hook.
It was surprisingly easy! I changed it a little to make the mouth smaller. Also, when I trimmed the knot eyes, they turned out looking like eyelashes. So I made a girl monkey!
Crochet Bag for Crochet Projects

The first real crochet project I made was a crochet purse I gave to a friend. It was a simple rectangle that I folded up and stitched part of the way along the sides. The pattern was in The Weekend Crafter: Crochet: 20 Simple and Stylish Designs to Wear. She loves dogs, so I used a paw print button as the closure.
I wanted a way to carry my yarn and crochet with me, so I invented my own crochet bag.
I used some leftover yarn and made up the design as I went along working in rounds.
It has a pocket for hooks, measuring tape, and gauge. I put picots near the top, so that's a handy place to store the safety pins I use as markers.
The two strong handles help to keep everything inside if it starts to overflow, and the bottom is wider so it doesn't tip over.
How do you like to carry your projects in progress?
More to Explore

---