March Kindergarten 1

Our lucky days continue in March kindergarten 1! This month our story character is returning from his trip, and we'll start working on letter recognition.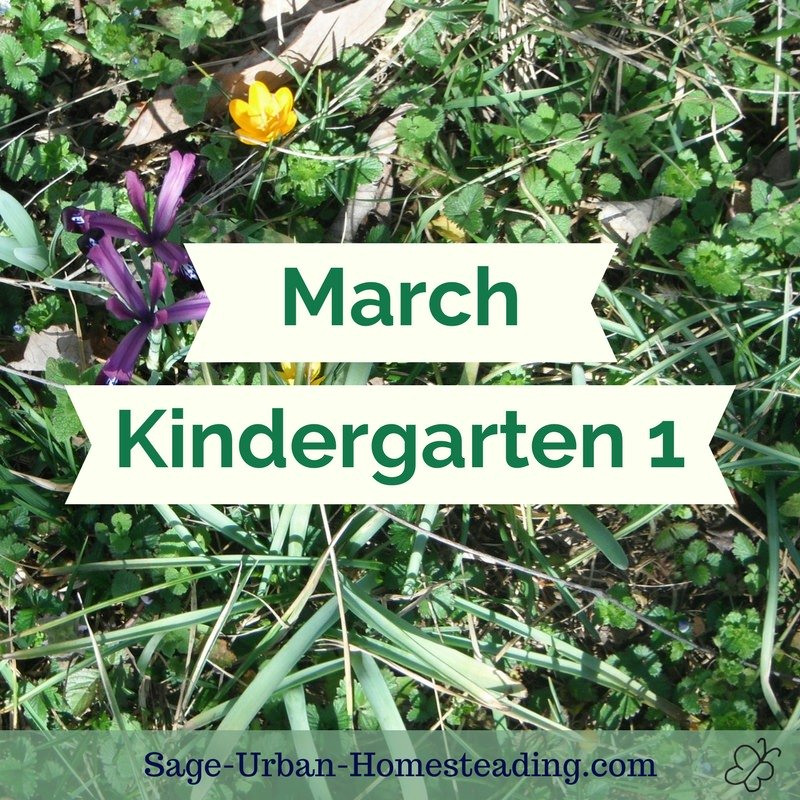 March Kindergarten 1

Our Froebel gift to play with for the month of March kindergarten 1 is  Froebel gift 6. Look at the neat structures you can build with this one!

It consists of a mix of rectangular prisms of different lengths. Like the other gifts we have already done, this one stores neatly in a wooden cube box.
When she first opened it, I illustrated how two square or two long pieces could be put together to make a rectangle and explained that they were different ways of dividing in half the long way or the short way. She built a large cube and then a tower, and then I challenged her to make it even taller by stacking the pieces on end.
Week 1

The young typist obsessed with finding and "typing" letters on junk mail and boxes has been counting down until this week. She knew this was when we would start our reading curriculum.
Why March? I decided this last year when I looked at our reading curriculum and calculated where I wanted to be with actually reading a little near the end of kindergarten 2. I paced it out so that by starting now with one letter a week we'll end up where we want to go.
She could easily be reading now, but according to research waiting until closer to age 7 is best. The program we are using goes through the alphabet three times: capital letters, lowercase letters, and phonemes. The next level of the curriculum, which we aim to be starting summer of next year, goes into a complete phonics program. We'll have the traditional Waldorf grade 1 alphabet story, as well, and that is when we'll work on writing.
Right now our nature table has some fool's gold and green rocks from our mining experience last November. I change the backgrounds top and bottom to match the circular diagram in The Nature Corner book, but I use paper instead of silk since it gets some sun and we're busy playing with the silks anyway.
In our Waldorf Essentials curriculum, Super Sam is returning home from his trip.

Sam will show his journal to the king next week. We got together with some homeschooling friends to play parachute games.
This week for our Sparkle Stories we listened to "For the Love of Spice: Georgia Bean's Method for Minding Mice". It was really cute and had some great parenting advice, too! Unfortunately, we still have incidents such as painting the floor with yogurt.
We started a batik fabric painting inspired by a project she found in the Art Lab book. We did the white glue on the fabric.

Week 2
This week a cold bug has been going through our household, so no nature walks. From the windows, we admire some daffodils starting to open and watch robins hunting for worms.
I recovered my voice enough to do our stories and lessons. Sam finally shared his journal and stories about his trip. He was invited to the palace to speak in front of the king and other forest gnomes.

He also received another special mission which will not involve traveling, but stay tuned for more interesting adventures! I'm excited about a surprise I have planned for next week.
We managed to paint the fabric for the batik project with some acrylic paint. It reminds me of the egg ornaments I used to make.

What are your rituals for when you have a sick child? I like to play lullaby music that I remember listening to while breastfeeding. My voice was back by the time she was out, so I was able to read books aloud. I choose very mild plots or books of poetry, just things to stimulate some fantasy daydreams and take the mind away from thoughts of being sick.
We didn't do much for St. Patrick's Day this year other than wear green and hang a prism in the windows so we could watch rainbows dance on the walls.

Week 3
This week we had some nature time looking for spring flowers. It was nice enough to do a watercolor painting outside one day. It was the capital C painting from our All About Reading lessons. They have a great free article about How to Teach the Alphabet.

And then we had a big snow so we could go sledding and build a snowman! Actually, we made a Snow Mouse and Snow Mole (like in Mouse and Mole: A Winter Wonderland), then a snowman and snow turtle.
Super Sam's snow is melting so he was able to visit Granite's cave and learn all about rocks.

The next day we found a small fossil digging kit in the fairy mailbox. We've had a fairy penpal since last year who occasionally sends us letters and gifts, usually small handmade things, but sometimes she's been shopping. We wrote her back to let her know that we discovered a dragonfly.
While we're waiting for the next Sophie Mouse book to come from the library, we caught up on some others in our reading stack. One of the favorites was Yours Sincerely, Giraffe which is about a giraffe and penguin who are penpals. As the back flap said, "It's hard to imagine what someone looks like who you've never seen." Giraffe tries to dress up like Penguin and go visit him. I thought it was really cute.
Week 4
We finally had some nature walks that really felt like spring! We sniffed the daffodils and hyacinths. We also played in an empty basketball court one day, walking, running, skipping, and galloping along the curved and straight lines.
We found a feather to add to our nature scene. We also have a houseplant cutting in a cup of water in the scene. I'm hoping we can watch it sprout roots.
Super Sam spent more time with Granite examining how the rough rocks can become smooth. They visited the river.

I happened to have polished and unpolished pieces of the tiger's eye gemstone so we could directly compare a rough and smooth version of the same rock. I explained how it was probably polished in a tumbler, but wind and water can also smooth rocks over time.
If you've been following my own acrylic painting lessons, you know we have ongoing issues with defiance and obedience, or basically just learning to be courteous about the needs of others. She may seem quiet and shy in public, but like all children, she loves to test the limits when she feels safe. Our biggest battle this week was over fixing hair in time to go to dance class. Right now our egg dyeing activity has been postponed because she purposely dumped the juice from a can of sardines on the table.
I already boiled some red cabbage leaves so we can make some beautiful blue eggs like last year. Last year we also used some turmeric to dye yellow eggs, but we both liked the blue best, so that's what we'll use on the hardboiled eggs we plan to eat for Easter. We have some others not to eat that we'll decorate other ways.

More to Explore

---