March Kindergarten 1

Our lucky days continue in March kindergarten 1! This month our story character is returning from his trip, and we'll start working on letter recognition.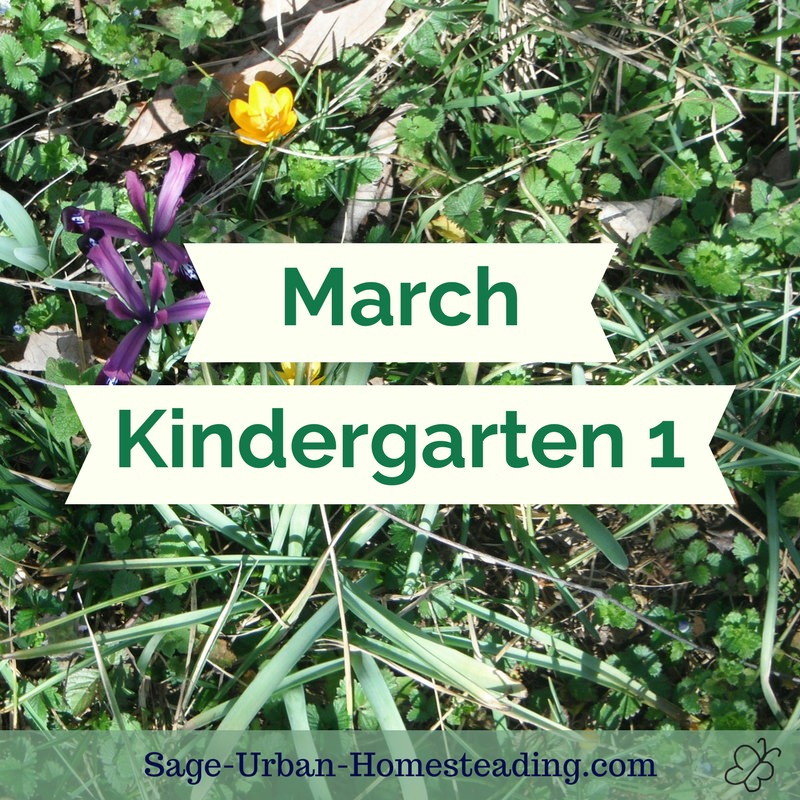 March Kindergarten 1

Our Froebel gift to play with for the month of March kindergarten 1 is  Froebel gift 6. Look at the neat structures you can build with this one!

It consists of a mix of rectangular prisms of different lengths. Like the other gifts we have already done, this one stores neatly in a wooden cube box.
When she first opened it, I illustrated how two square or two long pieces could be put together to make a rectangle and explained that they were different ways of dividing in half the long way or the short way. She built a large cube and then a tower, and then I challenged her to make it even taller by stacking the pieces on end.
Week 1

The young typist obsessed with finding and "typing" letters on junk mail and boxes has been counting down until this week. She knew this was when we would start our reading curriculum.
Why March? I decided this last year when I looked at our reading curriculum and calculated where I wanted to be with actually reading a little near the end of kindergarten 2. I paced it out so that by starting now with one letter a week we'll end up where we want to go.
She could easily be reading now, but according to research waiting until closer to age 7 is best. The program we are using goes through the alphabet three times: capital letters, lowercase letters, and phonemes. The next level of the curriculum, which we aim to be starting summer of next year, goes into a complete phonics program. We'll have the traditional Waldorf grade 1 alphabet story, as well, and that is when we'll work on writing.
Right now our nature table has some fool's gold and green rocks from our mining experience last November. I change the backgrounds top and bottom to match the circular diagram in The Nature Corner book, but I use paper instead of silk since it gets some sun and we're busy playing with the silks anyway.
In our Waldorf Essentials curriculum, Super Sam is returning home from his trip.

Sam will show his journal to the king next week. We got together with some homeschooling friends to play parachute games.
This week for our Sparkle Stories we listened to "For the Love of Spice: Georgia Bean's Method for Minding Mice" (listen free on the webpage). It was really cute and had some great parenting advice, too! Unfortunately, we still have incidents such as painting the floor with yogurt.
We started a batik fabric painting inspired by a project she found in the Art Lab book. We did the white glue on the fabric.

Week 2
This week a cold bug has been going through our household, so no nature walks. From the windows, we admire some daffodils starting to open and watch robins hunting for worms.
I recovered my voice enough to do our stories and lessons. Sam finally shared his journal and stories about his trip. He was invited to the palace to speak in front of the king and other forest gnomes.

He also received another special mission which will not involve traveling, but stay tuned for more interesting adventures! I'm excited about a surprise I have planned for next week.
We managed to paint the fabric for the batik project with some acrylic paint. It reminds me of the egg ornaments I used to make.

What are your rituals for when you have a sick child? I like to play lullaby music that I remember listening to while breastfeeding. My voice was back by the time she was out, so I was able to read books aloud. I choose very mild plots or books of poetry, just things to stimulate some fantasy daydreams and take the mind away from thoughts of being sick.
More to Explore

---
---
Like This Page?