October Kindergarten 1

Here are the highlights from our Waldorf inspired October kindergarten 1 homeschool lessons.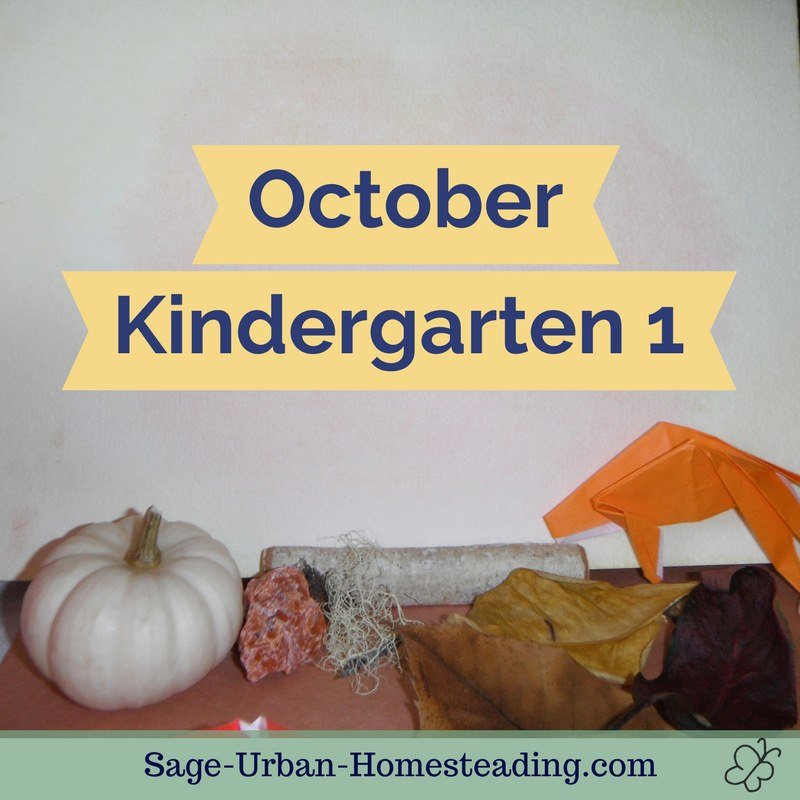 October Kindergarten 1

Our monthly Froebel gift to play with for October kindergarten 1 is Froebel gift 2. This one has a couple of different stages.
For week 1, I offered the plain sphere and cube in a basket. We talked about how they are different: One rolls, one does not. One has edges, one is smooth. I get my ideas from The Kindergarten Guide: Vol. 1 The Gifts, a reprint of the vintage book by Maria Kraus-Boelte and John Kraus. As the month goes on, we'll add the cylinder, try spinning them on sticks, and spinning them on a string.
We've been through the Froebel gifts before when younger, so I already know the shapes hanging from strings is a favorite.

Week 1

We continued our wind observations with milkweed pods. We took walks in the yard to see new pods open each day and find a random ladybug or something of interest. We are still seeing some monarchs pass through on their way to Mexico. One day we watched out the window as a hawk was trying to catch a squirrel.

I tried rhythm of the day incense at circle time since we'd been having conversations about fire safety and smoke, in addition to some conversations about air quality and pollution outside thanks to some stinky trucks. The incense also led to some interesting conversations about cigarettes and smoke detectors, good smoke and bad smoke.

Be reassured that I use super pure incense from Fred Soll's, which is resin on a stick, we only do it for 3 minutes at most, and it will only be this week, probably not again until January. I view incense as a special ceremonial thing, and this week we were celebrating fall.
While it's great to awaken the senses with new smells, having incense and candles around is not a good idea for everyone. Some people use tea for the spice of the day as part of daily rhythm or different spices on a grain of the day at breakfast. I know we're not a normal family since we do fire starting activities regularly anyway. Watching Daddy blow on smoky tinder is fresh in our minds from his demos at the Baltimore DIY Fest!
This week's story is a little different. Instead of Super Sam, we read the book Woody, Hazel and Little Pip by Elsa Beskow.
Woody, Hazel, and Little Pip have adventures riding on leaves blown in the wind and riding hidden in a squirrel's tail.
It's a story full of adventures with a squirrel and leaves, as you pictured. Sam and our gnome friends joined the party at the end of the story. The acorn hat characters will spend some time with Sam again next week.

More origami creations have been appearing in our nature scene, even though I cleaned it off for the start of a new month. We've been delighted with a Paint by Sticker Birds book (sticker by number) that was a gift.

For handwork, we finished the last of the felt purse sewing kits we have really enjoyed. I'm still trying to finish up the braided rugs and leaf flag for the gnome home, in addition to getting some more things ready for the coming weeks. The porcupines are ready, but Jack Frost is not!
Week 2

In addition to smelling the roses on the way to the mailbox and noticing milkweed pods in other parts of the neighborhood, we watched the squash and pumpkin in our yard growing bigger. We read a fun book called Mrs. McNosh and the Great Big Squash and added a little pumpkin to our nature scene.
We also found a small snake skin in the yard and added it to the nature collection tray.

Our music with Mr. Rob this week included  "Five Little Pumpkins" which is available free on the Preschool Prodigies blog for the month of October.
This week the Waldorf Essentials curriculum is back to original stories. Super Sam decided to invite the acorn children over and show them around.

He showed them the forest, his house, garden, barn, and then they made cookies. On the way home, they collected fall leaves to decorate the houses in preparation for the last big outdoor party before Jack Frost comes.
This spread over to decorating the gnome home for autumn. We put up the finished leaf flag and hung a necklace of orange beads so it looks like a string of little pumpkins (her idea!).

Week 3

We saw more migrating monarchs and more open milkweed pods. We saw a big spider in a very big web. We did a watercolor painting with a glue resist spiderweb in the middle.
Since she's already an expert at tying her shoelaces, she got a no-sew knotted quilt kit and started working on a blanket.

This week we learned several card games: Go Fish, Old Maid, and Snap. The game Go Fish is really good for early math skills with counting while dealing the cards, collecting sets, seeing who has more or less, also of course how to ask questions and take turns, and the beginning logic about figuring out what cards other people have.
Super Sam might have seen some fish while he was out in his boat delivering pumpkin bread. We also baked our own pumpkin bread this week.

He's inviting everyone to come to the big harvest party next week. The gnome home is coming along, too. This week we finished a burlap broom and burlap hay bundle decoration. We started working on a fire pit.
Week 4

This week on one of our walks we pulled a carrot from our garden and ate it. We checked on the pumpkin often. It's just starting to get some orange flecks. We also observed lots of roadwork in front of our house.

I am impressed that my 5 year old is now solving real life math problems such as how many more of a certain craft supply we need to make a total for a project, but then she does something totally irrational like purposeful pen scribbles on a chair. She knows it is wrong yet she does it and faces the consequences. It seems like we've been stuck on relearning these behavioral lessons for months.

Some people might wonder why we delayed official kindergarten enrollment and are spending two years on kindergarten, but I believe some of the best advice from Melisa Nielsen of Waldorf Essentials was to wait. I am counting on her advice that homeschooled children are more ready to take instruction from Mom as they go through some of the developmental changes around age 7. Has anyone else experienced this?

In our story this week, the forest gnomes and friends celebrated their last outdoor party of the year before Jack Frost comes.

The little fire pit is made of some twigs and orange wool glued to a cardboard circle. The Jack-o-lanterns, cookies, pumpkin bread, and blue tray were all made using the bread dough recipe in Mudworks.
Our favorite books for October kindergarten 1 have been Tap the Magic Tree, Mrs. McNosh and the Great Big Squash, and The Scarecrow's Dance.
More to Explore

---