January Kindergarten 2

Here's an overview of what our Waldorf inspired January kindergarten homeschooling looked like during our second year of kindergarten (age 5-6).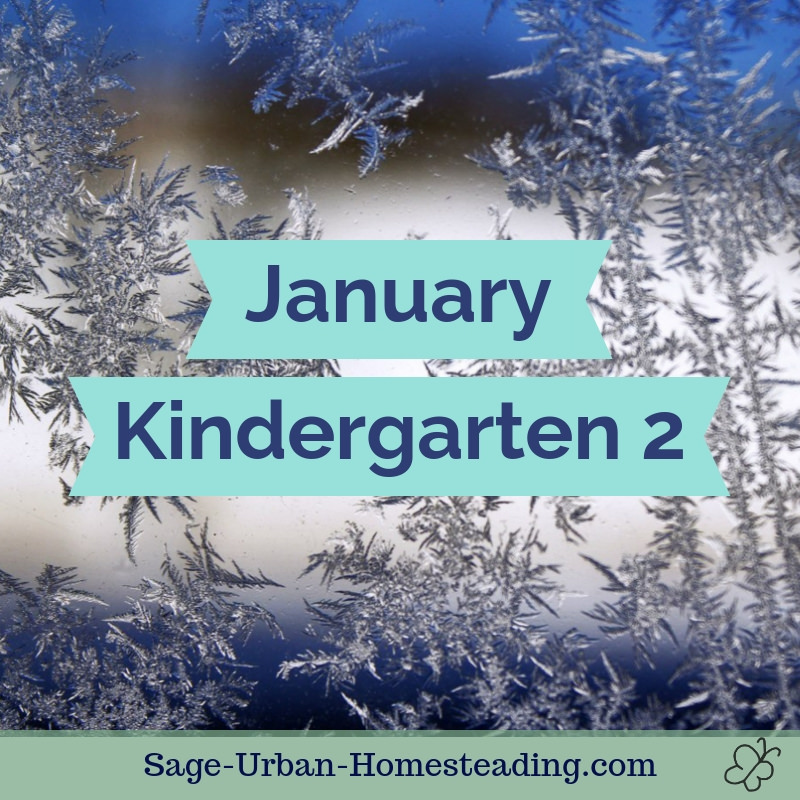 Our holiday celebrations this month included celebrating New Year's Day by visiting family. We also celebrated Martin Luther King Jr. Day by reading some relevant books.

January Kindergarten

Our pocket rhyme this month was Jack and Jill. 
From Cuentos para ver, oir y sentir, we did the story about animals gathering in a house and then a bear comes who is too big to fit, so he crashes the roof. A year or two ago, I let her take photos of the puppet show and ordered them as a little booklet.

Week 1

This week in our Waldorf Essentials story, Sam spent some time cleaning since his mom and sister will soon return from their long trip to visit the fairies. At the end of the story, we finally met them!

We finished the last of the pre-reading level cut and glue activities from our reading curriculum. We finished the Following Directions activity book, which she has really enjoyed. Our STEM challenge was to build a wheel using play dough and coffee stirrers. In the interactive notebook, she made a seasons wheel. She also tried out the wooden knitting tower she got for Christmas and made a headband.

Week 2

This was an exciting week -- we had our first ever homeschool portfolio review with the county! And we passed! Perhaps we did a little too well since the appointment was supposed to be a half hour but we ran over an hour sharing so much stuff. Our reviewer enjoyed our photos and ran out of room on the form trying to list everything we'd done!

I still don't think much of the review standards. They're as misguided as the standards in the public schools. Basically they are checking off boxes that the child completed worksheets. That does not measure real learning! But how do you measure and quantify things like a day at the National Arboretum, actually touching and playing with trees? We showed it in the scrapbook photo album she made, another great learning activity, but that kind of thing is not a checkbox on the list. Anyway...
Sam's Mama and sister are back, sharing gifts and wisdom from visiting the fairies. Sorry, I don't have a photo. She was excited to meet Mama and the sister last week, but in general, she is not into playing with the toys anymore. I think it's because she wants to get on to more exciting and new stuff in our lessons, which I will explain in a moment. She does still play with the gnomes during our afternoon quiet time and makes up her own fabulous stories, but she doesn't need me to act out the Super Sam stories. I'll explain more about this in February.

This week's STEM challenge was to make a wet suit to protect a small piece of paper. She loved this one and repeated it a couple of times, experimenting. For our Jack and Jill rhyme pocket, she did a sequencing activity.
We started started level 1 reading and level A math. She was very excited and eager to do lessons! We also started Artistic Pursuits book 1, the section about about what artists do.
Week 3
The Lottie dolls have been seeing so much action getting dressed and undressed that one lost her thumb this week! I've also had to do several clothing repairs. For this week's art lesson, she chose to do a painting of a doll.

Super Sam and his friends played in the snow and built a snowman. A new gnome appeared and looked cold, so Sam shared his scarf. (We imagined the scarves.)

We made paper snowflakes and did variations on how many sections and how many holes different folds and cuts created. She had a tantrum about not being able to fold a snowflake to make 7 sections. I told her she discovered odd numbers, but she was quite annoyed.
We continued the math, reading, and social studies "I Am Special" book. For a STEM challenge about color perception, we used the Legos and storage containers that she got for Christmas.

I made some new gnomes and let her help choose the colors and see how I sew them.
Week 4
This week we enjoyed sledding and playing in the snow in our yard.

In our ongoing story, Sam's world is also covered in snow right now. He has realized the new cold gnome is homeless and is figuring out how to help him. My daughter is very interested in his plight and eager to see how the gnomes will help him.

We read a good book called Lily and the Paper Man that really tied right in with the Super Sam story. It's about a girl who notices a man selling papers on the corner who isn't dressed warmly enough. Her parents help her collect donations of old clothing to give him.

We finished reading a book series about the basic animal kingdoms (birds, mammals, fish, etc.), did pencil sketches of items on our nature tray, and make Jack and Jill stick puppets.
Our STEM challenge was to build a tube dude out of toilet paper tubes. She got really into decorating it, and it is now another friend she walks around the house and plays with often.

Extra Week
This week she attended a library puppet show. We are still doing daily bird watching counts. The STEM challenge this week was to make a bottle cap balance on top of a straw.
Reading has involved lots of CVC short a words, and this week we moved into some short i words.
In math, we finally had the first lesson about how to use the abacus. The abacus was one of the reasons we chose this program. She now knows the "Yellow Is the Sun" math song well. I heard her singing that and "Rudolph the Red-Nosed Reindeer" while awake one night.
We started Christian Light Publications Bible 1. We'd been doing the Clip and Tell books before. I think she's ready for these grade 1 books. It's a Bible story then a worksheet such as coloring, connect the dots, or a maze. I've always wanted to use the CLP materials and been waiting until she was old enough.

More to Explore

---