January Kindergarten 1

Our first year of homeschooling continues with January kindergarten 1. It's the coldest time of the year in our part of the world.

January Kindergarten 1

Our Froebel gift to play with for the month of January kindergarten 1 is Froebel gift 4. This consists of a cube divided into eight rectangular prisms.
I had to point out that it was a different box with 4 on the lid. Right away she noticed the box was the same shape of a cube and the pieces inside were not cubes this time.
She counted them and arranged them back into a cube and hasn't played with it much since. I don't blame her, our new Marble Genius Super Set is more exciting.
Froebel Update from week 4: She built a tower with different floors and then a big wall, noting it was a large square. She also noticed that the pieces can all fit in the cube box going in different directions, so she figured out there are different ways to make a cube.

Week 1

Happy New Year!

It was very, very cold this week, so we did not go on walks outside. We did go to the free kids workshop at Home Depot to make a block calendar. This week she has been very interested in a blank calendar book, pretending to take notes in it about everyone's birthdays and all the holidays, so a block calendar was the perfect project for us.

As we celebrated Epiphany in our home this week, in our Waldorf Essentials curriculum, Super Sam was also visited by three kings and made a special cake! 

Funny story how we ended up with three kings:
Our original king was lost in early November. We looked everywhere. We thought it fell into a trashcan by accident. I was furious, so I told her to make a replacement with a drawing on a piece of paper. And then St. Nicholas found a king for me. About a week later, we found the original king hiding behind the piano! So we ended up with three kings. I knew the original story called for the king and his two advisors, so it worked out.
The king told Sam that he has a special job for him and wants him to travel to other lands. Sam is worried about who will take care of his animals and house while he is away.

We have been enjoying activities from the Mind Blowing Science Kit this week to learn about acids and bases, and we have been making bead animal keychains.

Week 2

This week we saw a blue jay join the cardinals, juncos, and mourning doves at the bird feeder. On an unusually warm day, we went for a walk in the rain, splashing in puddles.
In our story, Sam went for a walk in the winter forest to pray about who could take care of things while he is away, and he realized which friend is suited for the job.

Feeling more excited about the upcoming trip, he returned home to make a list of what to pack. We also brainstormed and made a list of what things he should take along. She wanted me to write it in capital letters so she could type it on her old keyboard.
She is SO eager to start the alphabet! We start our reading program in March, as I will explain later. With the Waldorf approach, it's like waiting for fruit to ripen. Don't pick too early. You have to let them develop a real desire and thirst for knowledge. Waldorf is all about the right thing at the right time. Reading is something to wait for and there are studies to prove it, as mentioned in the Read Aloud Handbook. We started a really cute chapter book series called Sophie Mouse that I'm reading aloud.
We have been doing more of the science experiments, including giant jiggly crystals and a color changing volcano. There was also a lot of music from the colored bells and piano this week. She is still reading and playing from the holiday songbook regularly.

Week 3

The 5 year old was a little wiggly, but we managed to play a whole game of Qwirkle as a family. It was fun!
We had a little more snow this week and tried to do a Q-tip painting of a white snowman on blue paper, but sometimes you just need a nap.
Super Sam the gnome continued preparing for his trip by making a list of the tasks his friend should do to take care of things while he is away.

She brought him a basket of buns and a star lantern. We tried making a Waldorf star lantern ourselves and found these directions easiest to understand. We also enjoyed making a variety of window stars from kite paper.

Mom's Preparations: While she spent some time visiting grandparents this week, I worked on making a zebra puppet for our reading curriculum and capital letter Snapp cards.
Last spring, we did Snapp cards of lowercase letters and sounds just as a first exposure, all fun and no drilling. I need the puppet and capital letters ready for starting the reading curriculum lessons in March. We will probably review our other preschool reading games in the coming weeks so our eyes and brains are ready.
I'm also trying to finish up some exotic knit animals Sam will meet on his trip in February. It's going to be exciting!

Week 4

We went on a walk and found a spiky gumball, different types of brown leaves including different types of oak, and some feathers. It was all added to our nature scene.
There have been more Qwirkle and Go Fish games. We made purple cornstarch goop for our own amusement one day, and on another day we made some homemade playdough to give a friend as a homemade birthday present.
Inspired by the window stars from last week, the origami this week has moved toward pieces that put together several folded papers to make large wreaths and frames. 
We're continuing with the Sophie Mouse books, up to #3 now. There has also been interest in Abiyoyo and bird field guide she discovered, asking about the maps in there and enjoying the photos. It was her own idea to try and identify what types of birds visit our bird feeder.
In our story, Super Sam said goodbye to all of his friends this week. He is leaving on his trip to travel to distant lands.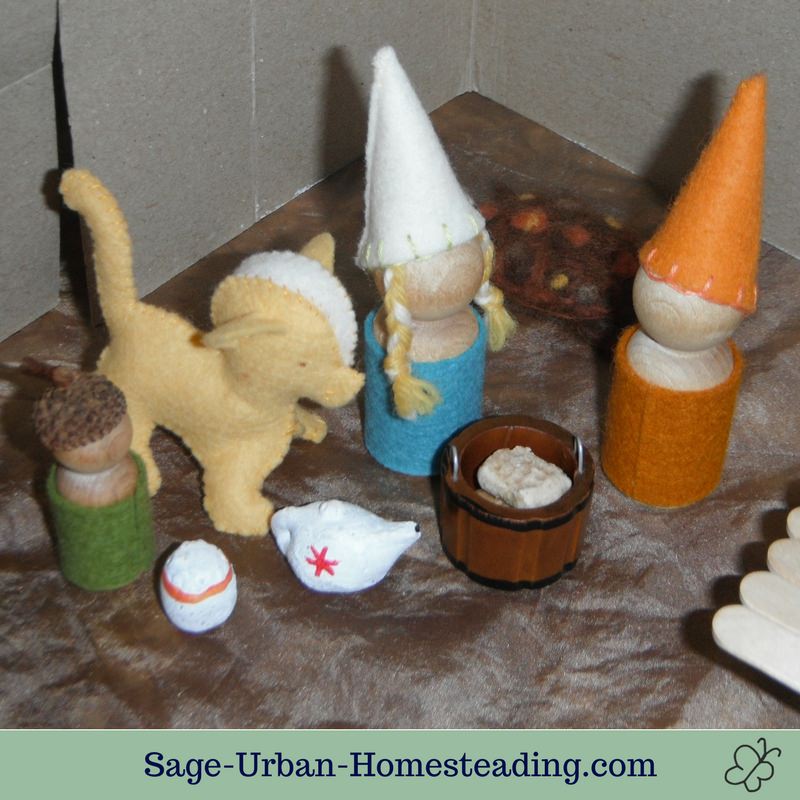 Sam's friends brought him waffles, tea, and maple syrup so he would have a good breakfast before he left on his trip.
I always do a few rhymes, songs, and fingerplays before the story. This week was a great opportunity to sing some goodbye songs. I used to do them a lot when I worked at a school and when I presented storytimes, but they don't really fit at home when you're not leaving!

We worked on making a paper snowflake garland for the gnome home. On her own, she started experimenting with how to make different numbers of holes. This is described in Moebius Noodles Math as an activity. I have free worksheets that we will use with the book next year to have evidence for our homeschooling portfolio.

Extra Week

There was an extra fifth week this month, so we read The Sun Egg by Elsa Beskow. As with the other Elsa Beskow books we've read, I had no props made ahead of time.  We read it then I asked what we should make. She was most impressed with the fairy's seasonal dance dresses, so I made a paperdoll and 3 outfits then added some wool for hair.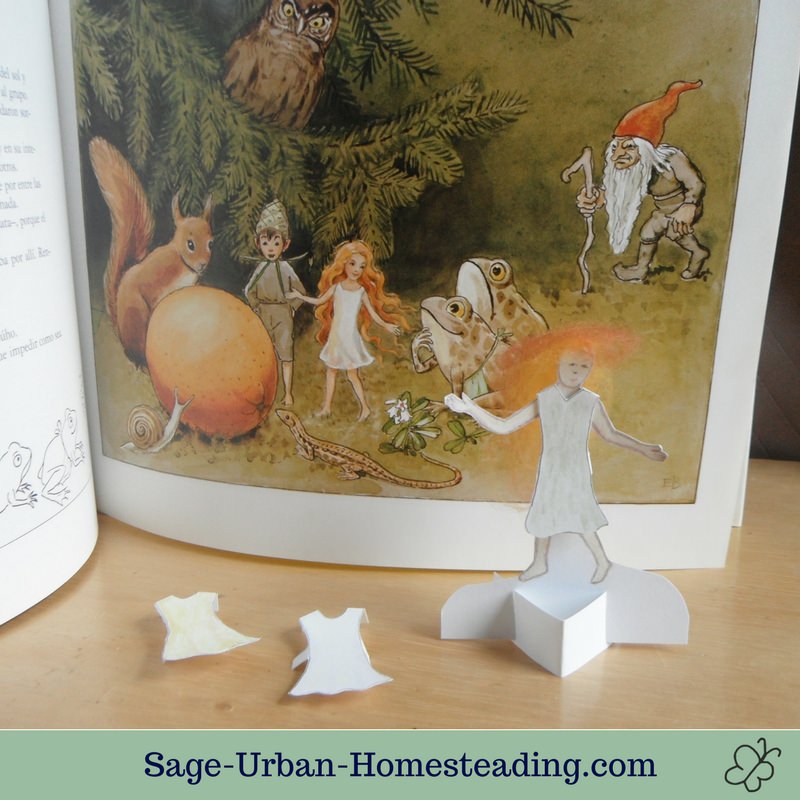 The dresses are on another page in the book, but I used this page to sketch the fairy's body for the paper doll.
It took about 30-45 minutes total to sketch and make it all, which is much less time than I've been spending on knitting all of the exotic animals for next month!
We made a sticky collage using contact paper and kite paper scraps, a project we've done every winter. We have used tissue paper and acetate in the past, talking about what is transparent or translucent. We also like to do a yearly cotton ball cloud collage that we'll probably still do sometime for late winter or spring. This one was wrapped into tube to go around our star lantern and now sits in the nature scene.
We are still doing the Social Skills stories and this week was about respecting opinions, so we made another paper snowflake to glue in the journal and illustrate how everybody is different.
We finished stringing our snowflakes from last week and hung the garland to make it snow in the gnome home. We also added white wool roving wrapped around the bottoms of the branches to look like it snowed.

We started doing our preschool reading games again to get ready for letter lessons. This week we did the Snapp cards for colors and silhouettes.
More to Explore

---