Rainbow Gnomes
I wanted to make a handmade gift for my baby's first birthday, so I made rainbow gnomes using this free gnome pattern from Wee Folk Art.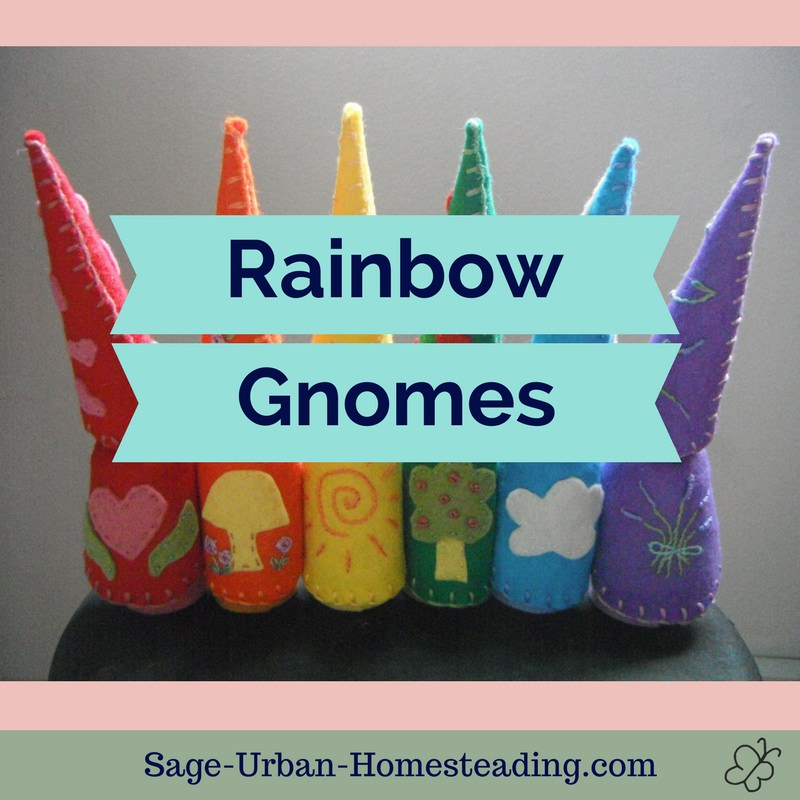 Crazy, right, giving embroidery to a child when you know it's going to be chewed? I told my husband, it doesn't have to be perfect, just durable!
I'd been reading about sensory education in the child development books. They talk about exposing young children to natural materials such as wood and wool instead of all plastic.
I want my child to develop a taste for natural materials, literally in this case, since I know she'll chew them! So these gnomes made of large wooden peg dolls and embroidered wool felt seemed like a great idea. And I loved the rainbow of colors.
There are six rainbow gnomes in the group:
red -- hearts
orange -- mushroom
yellow -- sun
green -- apple tree
blue -- rain
purple -- lavender flowers
Each one has a blanket stitch around the edges of the hat and cape to make the wool felt more durable. The appliqued felt pieces are attached with a running stitch.
You'll also see the stem stitch or backstitch on the orange, yellow, and purple gnomes.
The blossoms on the apple tree on the green gnome (I was out of red floss for apples so I made pink apple blossoms!) are French knots.
The leaves on the orange and green ones are made using the detached chain stitch.
Some really special stitches are the woven spiderweb roses on the orange gnome and the bullion stitch for the lavender flowers on the purple gnome.
Overall, it was a fun and easy project I was able to work on while watching my baby.
I liked the variety of stitches and colors (great way to use up my embroidery floss scraps!), and most of all, knowing that perfection was not required. I did have a sleep deprived accident one day and attached an applique to the wrong side of a piece, but it was easily fixed.
P.S.-- The rainbow gnome hats are perfect for a party since they look sort of like birthday hats!
Updates on the Rainbow Gnomes

After Half a Month of Use

No need to worry about choking concerns, I am giving them as a supervised toy and no accidents yet. The small felt pieces are sewn on. The larger pieces are glued to the wood with non-toxic glue. I used my homemade jojoba and beeswax polish on the wood, so I know it's safe, too.
I'm actually impressed that she hasn't chewed on them! I thought from the articles with the pattern that the hats would be a chewing target (I guess because they had a younger baby), but my girl mainly picks them up by the hats, so that's the chief source of wear and tear, but they've only bent a little and still look great!
And I love it that she's noticed the embroidery. Sometimes she pokes at a flower or apple blossom, feeling them and admiring them!
After Three and a Half Years of Use

Still holding up! I had to re-glue some hats she twisted off at around age 3 (it was a phase, they had to go to the doll hospital overnight), but you can't tell now. They're a little bent and worn compared to the photos here taken right after I made them, but they're doing well. They're loved.
More to Explore

---