How to Read Knitting Patterns
There are many knitting patterns available, but they all contain the same basic information. They tell you the knitting gauge, types of knitting stitches to do, and number of rows or rounds.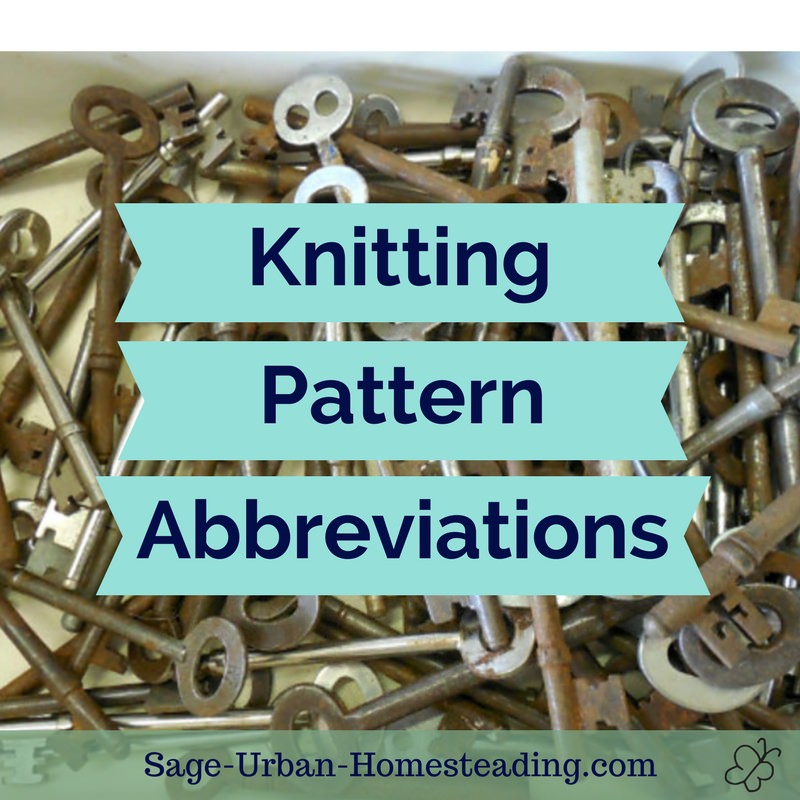 Ok, I will admit that some vintage knitting patterns lack the basic information, but that's what makes them such a challenge! A good pattern will tell you everything you need to know.
Pattern Abbreviations
Here's a list of the basic pattern abbreviations. If you still don't know what something is, look it up in the knitting terms.
[], (), or *

repeat

beg

beginning

BO

bind off

cab

cable

CC

contrasting color

cn

cable needle

CO

cast on

dec

decrease

dpn

double pointed needles

eor

every other row

eon

end of needle

g st

garter stitch

inc

increase

k or K

knit

kbl or K tbl

knit though back loop

k2tog

knit two together

ln

left needle

lp

loop

M1

make one stitch

MC

main color

p or P

purl

p2tog

purl 2 stitches together

pm

place marker

pnso

pass next stitch over

psso

pass slipped stitch over

rem

remaining

rep

repeat

rev St st

reverse stockinette stitch

rnd(s)

round(s)

RS

right side

sel

selvedge

sk

skip

skn

skein

skp

slip 1, knit 1, and pass slip stitch over so one stitch is decreased

sk2p

slip 1, knit 2 together, and pass a slip stitch over the knit 2 together so 2 stitches are decreased

sl

slip

sl1k

slip 1 knitwise

sl1p

slip 1 purlwise

sp

space

ssk

slip, slip, and knit these 2 stitches together as a decrease

st(s)

stitch(es)

St st

stockinette stitch or stocking stitch

tbl

through back loop

tog

together

won

wool over needle

wrn

wool round needle

WS

wrong side

wyb or wyib

with yarn in back

wyf or wyif

with yarn in front

yb

yarn back

yf

yarn forward

yfwd

yarn forward

yo

yarn over

ytb

yarn to back

ytf

yarn to front
Most knitting pattern books will contain a glossary that lists the definitions and describes the stitches.
Knitting Gauge
The most important information in a pattern comes at the top even before the instructions about rows. Look for the knitting gauge. It's a measurement of how many stitches and rows are within a certain measurement of area.
Knit a sample square swatch using the yarn weight and size knitting needles that the pattern suggests. If your sample is different from the gauge, make adjustments and try again. Get it right with the swatch before you start knitting the main project.
Gauge Problems with Knitting Patterns

Less stitches and rows than the gauge (too big)

Try using a smaller pair of knitting needles. You may also need to use a lighter weight yarn.



More stitches and rows than the gauge (too small)

Try using a larger pair of knitting needles. You might also need to use a thicker yarn.
I cannot overemphasize how important it is to get the stitch size right. The pattern will not turn out to be the right size if the stitches are not the right size. Don't ask me how I know!
More to Explore

---