Knit Hat Patterns
I love knit hat patterns. Knitting is perfect for hats because the stitches automatically make it a little stretchy to fit your head.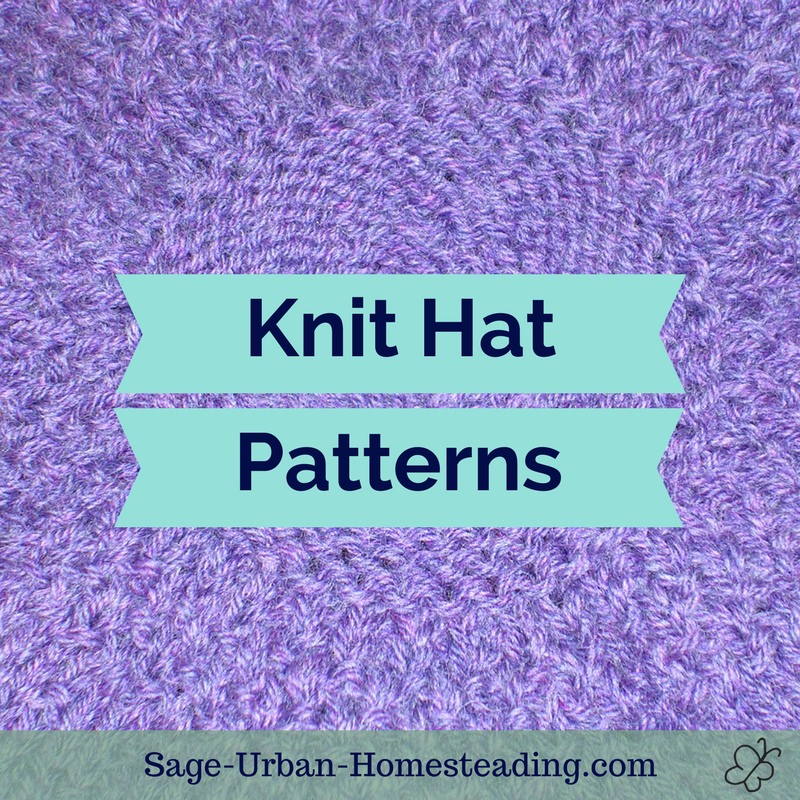 For the most stretch, look for patterns with ribbing and stay away from Fair Isle.
The easiest way to have a pattern turn out the right size is to use one that works top down from the top of the hat to the brim.
I have also found that hats with a rolled brim are the most versatile for adjusting the size as a baby grows!
Everyone's face is different, so you have to experiment to find the shape that looks best on you. A tall hat can make a pointy chin look longer. A round hat can make a face look rounder.
If you want to draw attention to your eyes, use a color of yarn for the hat that is in the same family but slightly darker and more subdued.
Styles for Knit Hat Patterns

When my mom said she wanted a knit hat, I told her to look through the knit hat patterns and find something she liked.
She found a couple of good ones, but we settled on one of the hat styles that would be most flattering to the shape of her face.
The best thing about knitting for hats is that the stitches give a little stretch, so you don't have as much trouble making a hat that will fit the head.
Types of Hats
There are several different styles and special needs for hats. Here are some tips:
Winter Ski Hat

The ribbed hat we normally imagine is great for skiing or playing in the snow if it's made of wool yarn because wool will continue to keep you warm even if it's wet. The ribbing and knitting allow it to stretch for a good fit.
You will also see winter hats with ear flaps. I think that's a great idea, especially for children!



Balaclava or Ski Mask

These cover most of the head and neck, only leaving an opening for the eyes and mouth. Sometimes the nose is covered, too. They can be adjusted to cover as much of your head as you need to and are great for blizzards and really cold weather.



Stocking Cap

A traditional stocking cap is long and ends in a point, usually with a tassel. Men used to wear them to bed in the winter, as referenced in The Night Before Christmas: "Mama in her kerchief and I in my cap...." The length and knitting made it look similar to a stocking.


Beret

The classic beret has a flat top. You can easily block or shape any that you stitch by inserting a plate and letting the hat dry with the plate inside.



Chemo Hat

People going through chemotherapy or something else causing hair loss may need a hat for warmth or just for appearance. If the weather is warm and the hat is only for appearance, use a lightweight yarn. Fur and eyelash yarns can create fun hair.
Which style looks best on you?
It All Comes Together Beret
My mom helped choose the pattern and yarn, and I made the hat for her as a Christmas present. Keep reading for a link to the free pattern.

She wanted a lightweight wool hat, so I made this knitted beret from sport weight yarn. I used 100% Peruvian highland wool from Knitpicks in the Royal Heather color.
I had to make the entire thing on double pointed needles because I couldn't find a circular set in the correct size.
You can get the free knit hat pattern on Christianna's blog.
It starts out with a rib stitch for the edge, and then works upward in a sprinkle stitch, turning into all purl stitches in the center top.
I finished it in time to give as a gift on Christmas Day. Mom loves it!
More to Explore

---