Huck Embroidery Patterns
 I love embroidery! I enjoy huck embroidery patterns, also known as Swedish weaving patterns, on huck towels. This was a very popular section on my old website that I ran for 10 years.
Towels are small so they're fast to stitch, and they make great gifts.
The only problem is that there aren't many patterns available, and some that are available are too elaborate for a hand towel in my opinion.
That led me to experiment and design my own huck embroidery patterns.
I used to sell my patterns at local craft markets and through word-of-mouth, but now I share them with the world!
How can I do it?
I spent months studying the best way to do this. I decided to create downloadable huck weaving patterns so that you can get started immediately. I know firsthand how hard it can be to wait for something special you've ordered to arrive in the mail.
I am also annoyed when patterns do not include enough instructions. I wanted to walk you through every step with plenty of illustrations.
I figured out how to make my patterns available to you on Amazon and Smashwords!
How does it work?

You make the purchase through Amazon or Smashwords. You receive a copy of the book in your personal online library. It can be downloaded to an Amazon Kindle, Sony Nook, or viewed on any computer with an internet connection.
Benefits of Sending the Pattern Electronically
You can open the pattern on your e-reader or any computer instantly.
After downloading, you can view the pattern anytime offline without internet access.
It includes many photos yet loads and opens for view quickly.
It includes an easy to use Table of Contents with clickable links.
No more worries about a paper chart becoming wrinkled in your bag!
---
How does this compare with a traditional pattern?
---
Paper Pattern

1 or 2 pages
Incomplete instructions
Limited photos, most black and white
Need to find a scanner to print a copy to fold and carry, always concerned about copy being damaged
If ordered online, wait for shipping and delivery
---
Downloadable Pattern

Several pages (see my Table of Contents)
Complete instructions
Several color illustrations and photos (color view on Kindle Fire and Nook Color)
Access from an ebook reader or computer
Instantly delivered electronically
---
What about pricing?
Popular name brand patterns come with all of the limitations above and can be quite expensive. For something small like a towel, you can expect to pay around $10, plus shipping.
The total price of my pattern is $9.99.
And for that price you get a small, quick, pattern ebook that delivers this:
Table of Contents

Materials
How to Prepare the Towel
How to Prepare the Threads
Stitches Used
Pattern Instructions
Pattern Diagram
Pattern Photos
Online Resources
I offer you the pattern instantly. It only takes a minute to place the order and you will receive the pattern instantly.
Please note that the pattern instructions are only available in English at this point. If you are interested in another language, please contact me.
Huck Embroidery Patterns Available

Here are descriptions for each pattern. They are easy, walking you through each step, so it's a great way to learn huck embroidery!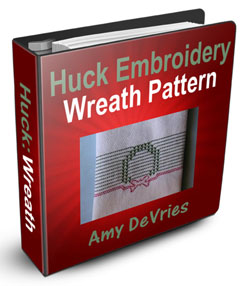 Wreath Pattern

This Christmas design uses the loopty-stitch to make a row of 3 wreaths as a huck embroidery pattern. One shows when the towel is folded into thirds.
Buy it now on Amazon or Smashwords.
Tree Pattern

This huck embroidery pattern looks good in any color for any time of year! It makes a row of 3 trees with loops between. One tree shows when the towel is folded into thirds.
Buy it now on Amazon or Smashwords.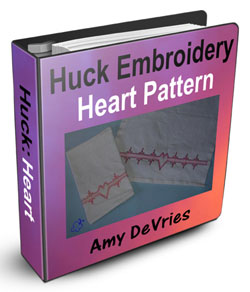 Heart Pattern

There is a heart in the center with a row of 3 starbursts on each side in this huck embroidery pattern. When folded into thirds, the heart and 2 starbursts show.
Buy it now on Amazon or Smashwords.
More to Explore

---