Instant Pot Recipes
I have been trying lots of Instant Pot recipes since we decided to buy one to celebrate our 5th wedding anniversary. We love it! I am always looking for more recipes to try.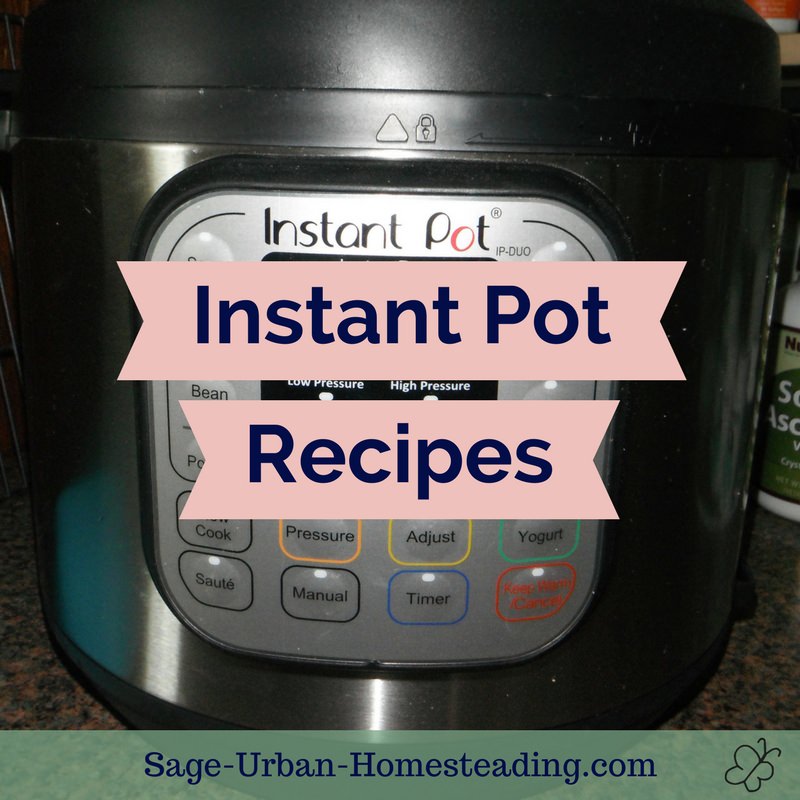 I was actually looking for a new Crock Pot. Our old one was inherited with the house, had a hairline crack in the bottom, and was overheating. A friend suggested I look into this appliance which is a slow-cooker and pressure-cooker. I didn't know anything about pressure cooking, but it came with a helpful cooking guide.
How It Works

Pressure cooking works by changing the air pressure inside so that the temperature required to bring water to a boil is lower. It actually preserves more nutrients and texture in fruits, vegetables, grains, and meats than other methods of cooking.
I think it's better than our old Crock Pot because it's much easier to clean, too. It's a stainless steel insert, not the heavy ceramic I was always so afraid of breaking in the sink. And I wish all my pots and pans had a built-in lid holder like that!
Why It's a Great Way to Cook

Once I was reassured that it didn't damage the nutrients, I thought it would be really useful for us.
More efficient use of energy and heat so you save money with the electricity used for cooking and the room doesn't get as hot so you save money on air conditioning
Cooks faster for example a soup recipe that used to take 8 hours in the slow-cooker now takes 30 minutes in the Instant Pot
Includes a timer so I can set it to have warm wild rice ready to eat for breakfast when we wake up
It can also make yogurt, which I have tried but do not make regularly.

Available on Amazon
Another cool feature is that you can sauté in it, so you can brown the meat right there before you make bone broth.
Wow, that's a big time saver! I used to brown beef in the oven before putting it in the Crock Pot and have a big greasy pan to clean plus the heavy Crock Pot.
One of my favorite uses is cooking large squash. I used to struggle to cut a spaghetti squash, butternut squash, or acorn squash in half and then it had to cook for about an hour. Now I put them in with the trivet and 1 cup of water, cook for 7 minutes(!) and cut them open with no problem, ready to scoop out the seeds and eat.
Favorite Instant Pot Recipes
I'm always looking for more Instant Pot recipes and perfecting cooking times, so please bookmark this page and come back as this list will hopefully grow.
Hardboiled eggs -- IP Manual 6 minutes
Squash -- IP Manual 7 minutes near sea level, I like IP Steam 18 minutes when I load it to the top with one big butternut squash cut into quarters

Sweet potato -- IP Steam 20 minutes
Regular potato -- IP Steam 18 minutes

Artichoke -- IP Steam 11 minutes
Cauliflower -- IP Manual 3 minutes

Plantain -- IP Manual 7 minutes
Wild rice (link also lists other types of rice and grains) -- IP Multigrain 25 minutes with 15 minute slow release
Bone broth -- IP Soup 240 minutes
Chicken mango stew (we leave out the chipotle and add peas and carrots) -- IP Poultry 30 minutes
Chili soup (link coming soon, adapted from the Nourishing Broth book)
Ham and beans -- IP Beans 25 minutes with premade broth and ham (need to make it again and will update the time here!)
Chicken squash spinach stew (we use butternut squash instead of sweet potato) -- IP Poultry 30 minutes
Chicken cranberry cabbage stew -- IP Poultry 25 minutes
Peach dump cake -- IP Manual 7 minutes
Do you have a favorite recipe to share?
Update: Taking It to the Next Level

I bought a stacked steamer insert so now I can cook or reheat 2 or 3 things at once! I'm still experimenting, but so far I love it. Check back for more updates and instant pot recipes.

More to Explore

---