How to Read Crochet Patterns
All crochet patterns use the same basic format. They give you the information on how to crochet the pattern, which includes the gauge, types of crochet stitches, and number of rows or rounds.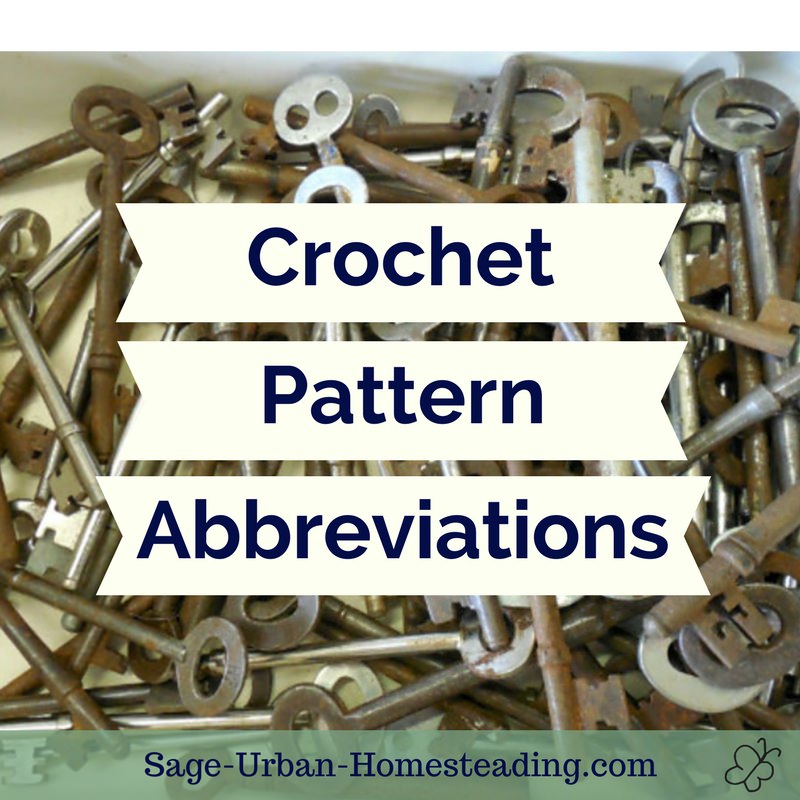 Pattern Abbreviations
Some patterns use a visual chart that is a drawing of the final pattern with symbols for the stitches used. The crochet pattern book should explain the symbols it uses. Otherwise, here are the common pattern abbreviations:
[], (), or *

repeat

beg

beginning

bet

between

BL

back loop

b or bo

bobble

BPdc

back post double crochet

CC

contrasting color

ch

chain stitch

ch-sp

chain space

CL

cluster

cont

continue

dc

double crochet

dc2tog

double crochet two together

dec

decrease

dtr

double treble

FL

front loop

foll

following

FP

front post

hdc

half double crochet

hk

hook

inc

increase

lp(s)

loop(s)

MC

main color

p

picot

pc

popcorn

rem

remaining

rep

repeat(s)

rnd(s)

round(s)

RS

right side

sc

single crochet

sc2tog

single crochet two together

sk

skip

sl st

slip stitch

sp(s)

space(s)

st(s)

stitch(es)

tch or t-ch

turning chain

tbl

through back loop

tog

together

tr

treble crochet

trtr

triple treble crochet

WS

wrong side

yo

yarn over
Still confused? Take a look at the crochet terms. Most books contain a glossary at the beginning or end that describes how to make the different stitches and explains any special abbreviations used for fancy stitches in the pattern.
Yarn Gauge

It's very important to match the yarn gauge for how many stitches and rows fit within a certain measurement. You need to match the requirements for your finished project to turn out the same size as the pattern describes.
Crochet a sample square swatch using the yarn weight and size hook suggested in the pattern. If your sample is different from the gauge, make adjustments and try again.
Gauge Problems with Crochet Patterns

Less stitches and rows than the gauge (too big)

Try using a smaller crochet hook. You may also need to use a lighter weight yarn.



More stitches and rows than the gauge (too small)

Try using a larger crochet hook. You might also need to use a thicker yarn.
It's more much important to match the pattern gauge than the size hook and yarn. I have an entire set of every size crochet hook, so it's easy for me to make adjustments by changing hook size.
More to Explore

---