February Kindergarten 2

Here's an overview of what our Waldorf inspired February kindergarten homeschooling looked like during our second year of kindergarten (age 5-6).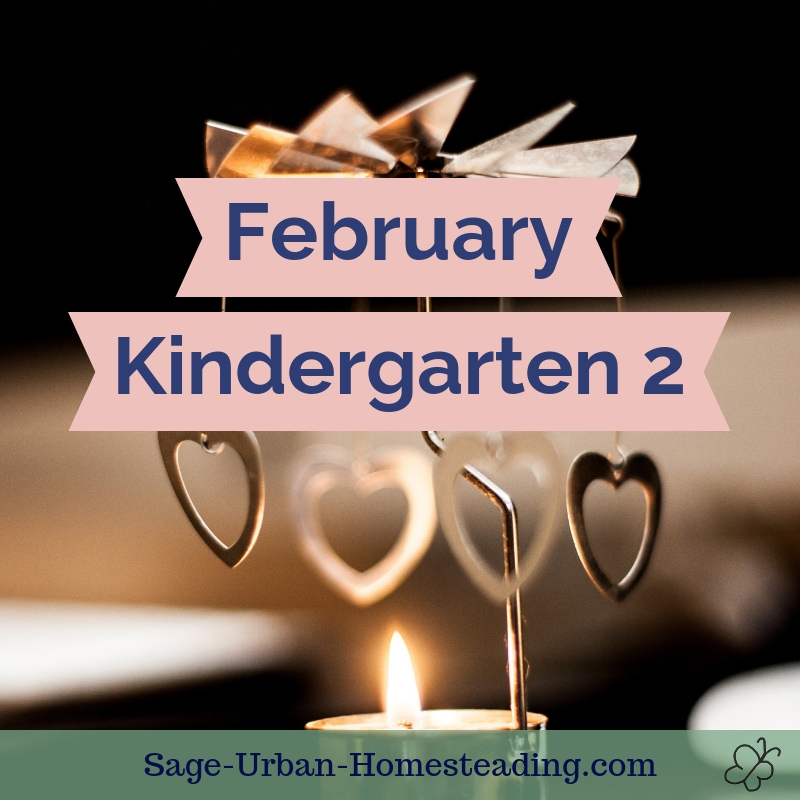 Our holiday celebrations this month included celebrating Candlemas or Groundhog's Day by observing the weather. We didn't make candles this year since it will be a big project next year. We celebrated Valentine's Day by making valentines for our family and friends, and by reading books.

February Kindergarten

Our pocket rhyme this month was Diddle Diddle Dumpling. One of the activities was making a graph about who wears socks to bed and who does not.

Week 1

This week in our Waldorf Essentials story, it was decided that the king will help Sam find the lost gnome Toby's family in the spring. For now he will live with Sam and learn new things. We read some books related to homelessness like Lily and the Paper Man (highly recommend!) and being lost like Franklin Is Lost.
You might be wondering, where are the photos? As I mentioned last month, she is no longer interested in acting out the stories with the gnomes. Or should I say she doesn't want me to act them out? No, it's more like I know she's not interested and won't help set them up or clean up, so I don't bother. The reluctance on her part has actually been going on for awhile. I felt bad that I'd spent so much time making everything and was happy to get them out and act it out myself to get photos, but I am running out of steam now that my pregnancy is established. It's just not worth my time and energy if she's not going to help or show any interest.
Our STEM challenge this week was to make a bag to carry bananas. In reading, she did short o CVC words. In math, she did subitizing up to 8 and arranging things in order by size.
For our science program, we started studying different types of wood and did outdoor experiments about what happens when wood gets wet. She had a lot of fun wandering around the yard with a cup of water and a dropper. The weather was nice enough to spend some time playing in the sandbox and to have lunch outside 2 days.  Then she was full of complaints when the weather turned too cold again! We examined over a dozen different types of twigs to study buds and leaf scars, forcing some in a vase on the nature table. The pussy willow is out already.
Week 2

The STEM challenge this week was to make a rainstick. In math, we used geoboards and rubber bands, which she loved. In reading, we did short u words and the second sound of the letter s.
We made valentines for Valentine's Day. She learned to thumb crochet and made a long pink yarn decoration that we hung up.
On our forced twigs, the forsythia is now out and blooming along with the pussy willow. The weather was nice enough to visit the playground with our friends. We participated in the Great Backyard Bird Count, and the most exciting thing we observed was a large flock of grackles. For our art studies, she did a pencil drawing of some items on our nature collection tray like a feather and snakeskin.

Week 3
After settling in to life together last week, this week in our gnome story Sam taught Toby how to do chores.
We have more leaves and blossoms making progress on the twigs in a vase in our nature scene. We did a wood experiment about which type of wood builds a better raft to hold more people, represented by paperclips. In reading, we learned short e words. In math, she mastered subitizing up to 10. In art, she used watercolor pencils.
There has been a notable improvement in her art skills over the past few weeks by doing these very open lessons once a week. By open, I mean I'm not showing her how to draw anything; I am simply reminding her to observe lines and colors and exposing her to different styles of artwork. Just putting a little more attention into what she's doing is causing improvement to arise from within herself.

We learned all about the process of how to make maple syrup at Oregon Ridge.

Week 4
In the gnome story, Toby is excited to plan building a house. We continued reading and math, learning about quadrilaterals. The STEM challenge was a loop airplane. In art, she tried oil pastels.
We were excited to spot a red-winged blackbird in our yard. We made some snickerdoodle cookies, which I count as math for the measuring and science because we talked about which ingredients came from trees (almond flour, coconut oil, maple syrup, cinnamon). We also did a project to make particleboard using sawdust and wood shavings.
I gave her the Waldorf K assessment from Developing the Discerning Eye. She actually participated and enjoyed it! It involved demonstrating some physical abilities such as hopping on one foot and walking on a balance beam. She seems to be on track developmentally.

More to Explore

---