July Kindergarten 2

Here's an overview of what our Waldorf inspired July kindergarten homeschooling looked like during our second year of kindergarten (age 5-6).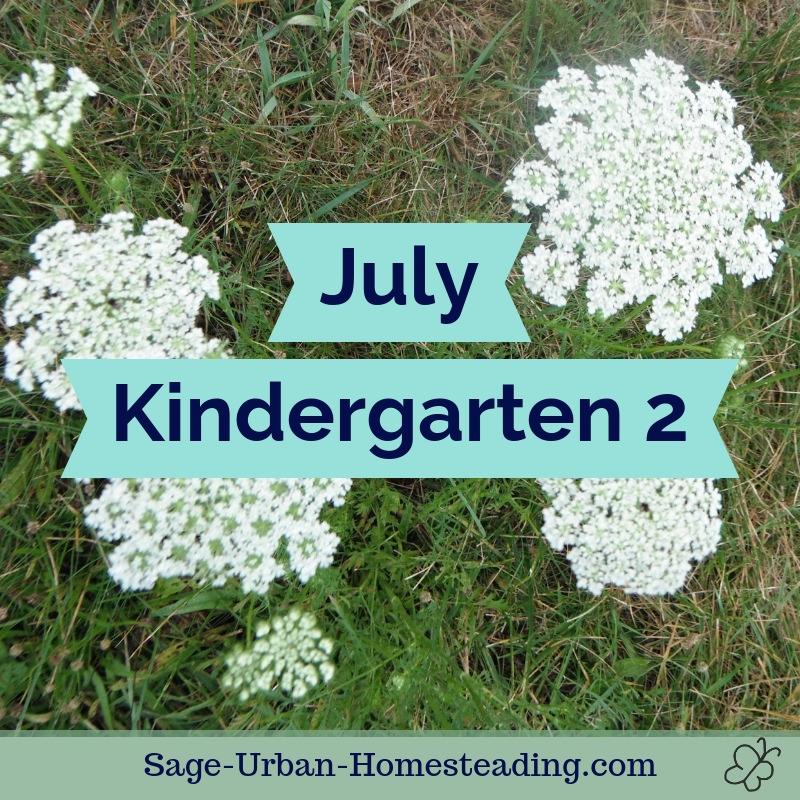 We did daily weather observations in July. We're going to record the same information for one month in each season and graph them later for comparisons.

July Kindergarten

Our pocket rhyme this month was "1, 2 Buckle My Shoe", the nursery rhyme about counting.

Week 1

We watched the Independence Day fireworks with fireflies and a bat. We did Lego challenges and made beaded keychains. This week in our Waldorf Essentials story, Super Sam told the story about the Princess and the Frog. We later modeled the characters with beeswax. Sam is working on learning to tie his shoes, but she's known how to do that for 2 year.
Week 2

We attended a library program where we made solar system size and distance models. She  got to work with some older girls going into 3rd and 5th grades, two nice strangers that we met there -- there are plenty of opportunities for socializing homeschoolers! It's also more realistic to interact with different ages. This week she was into books about fingerprint art. 
In the story about Super Sam the gnome, he told the story of Mother Holle and worked on  learning to ride a bicycle. She is also working on bicycling and swimming this summer.
Week 3
Our math lesson this week featured a fun math game called "Go to the Dump". It is similar to Go Fish but matching pairs of numbers that add up to 10. She also kept herself busy decorating a giant box like a jungle with big trees and fingerprint animals.
Week 4
In our ongoing gnome story, Sam had to tell a story and learn how to play hopscotch. With a little coaxing, I got her to make up a story. She knows how to hop, but she does not know how to actually play the game with tossing a stone. I promised to teach her when it's not so hot (temperatures in the 100s this week!) and the mosquitoes aren't so hungry. I'm planning to do it this fall and take pictures to count it as phys ed in our portfolio.

She learned how to make some simple string figures from my favorite cat's cradle book. We did a Lego inventory, seeing what we need to order to be able to build things in the Brick Pets book. We had a Skype call with distant cousins we don't get to talk to very often. She  finally worked on sanding and finishing her wooden spoon in order to order new Legos!
Extra Week
In reading, I introduced the term "short vowels" for the ones we learned first. In math, we had more practice with making 10 and discovering the pattern of what happens when you add 1 to a number. There was plenty of counting and describing while checking our Lego inventory. We had a couple of butterfly releases of our black swallowtail butterflies. We started reading School Days According to Humphrey as our evening read aloud book.
I hung up the large cloud poster we'll use later this year because she was asking about clouds. It was own idea to experiment with dissolving packaging peanuts this week.
I finished sewing a stuffed kangaroo with removable baby in its pouch, and her imagination is alive and well! She is talking to them and wanting to show them things.
More to Explore

---