Squash Quiche with Coconut Flour
Here's an easy recipe for squash quiche that is grain-free, gluten-free, dairy-free, soy-free... it works as long as you can handle coconut and eggs!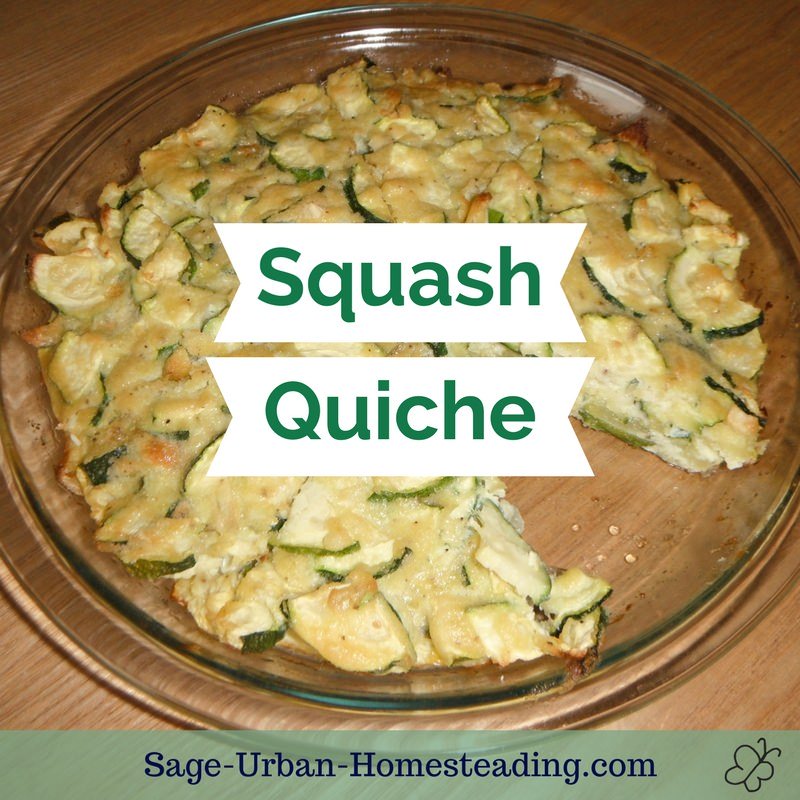 I adapted this recipe from one my mom gave me. I reduced the the flour and some other ingredients and changed it to coconut flour.
I like to make a batch of this and store it in the refrigerator all week for quick lunches.
You can warm it up, but I think it tastes great cold, too! I like to pack it in my lunchbox when I go out.
If you want to make it more spicy, you can add more ground black pepper. I like to keep it mild so we all want to eat it. Then the one person who wants salsa on his slice can add it himself!
I've also made this recipe using various kinds of summer squash. It works well with zucchini, cocozelle, yellow, white patty pan, and the mystery hybrids. It's a great way to use up whatever is abundant and in season.
Squash Quiche
By Amy DeVries, Dec. 7, 2013

This easy and delicious coconut flour and squash quiche is great for a quick lunch or a potluck dish.
Prep Time: 15 minutes
Cook time: 50 minutes
Yield: 1 pie, 8 slices
Tags: Gluten Free
Ingredients
1 large clove of garlic, chopped
1 large squash, sliced thinly and cut into quarters (original recipe said 3 cups, but I use whatever I have and whatever type: zucchini, yellow, white patty pan)
4 eggs
1/2 cup olive oil
1/4 cup coconut flour
1 tsp. baking powder, gluten-free
1/4 tsp. sea salt
1/4 tsp. black pepper, ground
Instructions
Preheat the oven to 350 F. Use a little olive oil to grease the pie pan.
Put the eggs in a bowl and beat. I like to use a hand crank egg beater. Stir in the rest of the ingredients, adding the garlic and squash last.
Pour the mixture into the pie pan and smooth it even.
Bake 45-50 minutes.
I make this in a glass pie pan and cut it into 8 slices.
The original recipe used a lot more flour (non-coconut), more baking powder, and had some Parmesan cheese, parsley, and leek.
If you have any leftover, it will keep in the refrigerator for a couple of days if you store it in a container with a lid.
More to Explore

---