Rocket Stove
Have you ever heard of a rocket stove? It's an efficient way to cook with very little fuel. You can build one yourself or buy one. We've tried both!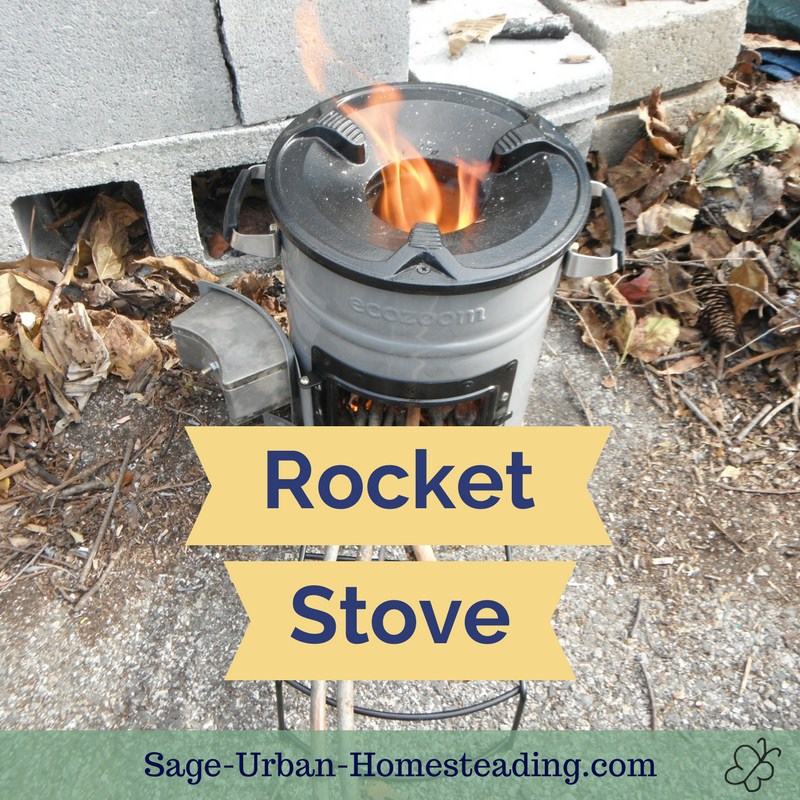 The stove works by keeping the heat contained in a chamber as opposed to an open fire. The only oxygenated air is coming in from the bottom.
It burns hotter and cleaner.
The heat goes up the stack and is more concentrated for cooking so cooking is much faster than over an open fire.
DIY Rocket Stove

A couple of years ago, we built one from cinder blocks. Actually, we built two, trying to improve on the design.
The first one was a tiny stove made of a large can with gravel and sand added for mass.
A design flaw was that it did not have a way to sit the pan on top to cook, so we sat a grate on top. Also, it didn't hold much fuel, it was just too small and not portable.
The second one was built from cinder blocks. They didn't hold the heat as well so the outside became very hot and the blocks cracked in undesirable ways.
The disadvantages of both DIY models are that they were not portable and near impossible to clean the ashes out.
How to Buy a Rocket Stove

So after we'd had the homemade stoves for a year or two, we decided it was time to purchase a portable model. This way we can master using it regularly at home and easily take it along when we go camping.
Available on Amazon
We decided on the EcoZoom Versa because it has some slight adjustability for hotter or slower cooking. You can adjust the chamber door to allow the coals to simmer.
The fuel rack to support long sticks is a nice feature missing from our homemade version. The air vent below is a really nice feature that was missing on our homemade versions.
We also got the Power Ring and Carrier Bag so we're really all set for camping! Everything fits in the bag plus there's a pocket where you could store a little fuel and hopefully keep it dry.
Cooking on a Rocket Stove

Choose your favorite way to start a fire. The hardest part is to get the fire going and sustained since the chamber is so small and contained. You could start with paper or tinder but you want to get switched to wood so it goes longer. If you have a burning stick you can move that to the chamber.
A pan with a lid is best if you're heating up soup or doing a wet cooking method. We have this camping cookware set and the pot was just the right size for our diy stoves.
As you can see in the photo, it's a little small on the Eco Zoom Versa. We're still experimenting to decide which pot works best with the Eco Zoom Versa and adjustable power ring. And remember the lid -- I took it off for the soup photo!
When you're done, the fire is well-contained so you can just let it die down. That's what we do. Or you could use water or close the chamber door to cut off the oxygen supply.
More to Explore

---