Dutch Oven Cooking

Dutch oven cooking is almost the same as crock pot cooking except it requires an external source of heat. You still need a lid to control the moisture and temperature of the food as it slowly cooks.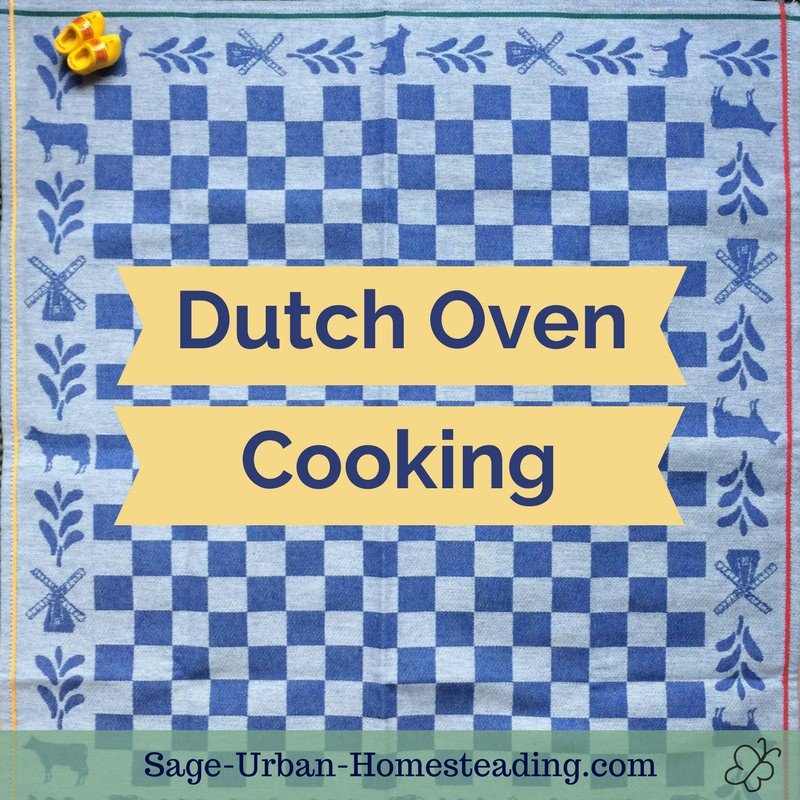 The level of moisture in a recipe is crucial to its success in a Dutch oven or crock pot. That's why they always come with a lid. The water will condense on the lid and drip back down to keep the food from drying out as it undergoes the long, slow cooking.
Dutch Oven Cooking Pots

Historically, these pots have been made of cast iron, but now any oven-proof dish with a deep depth and a lid can be called a Dutch oven.
The cast iron type can be placed directly on the hot coals of a fire. Some iron lids are designed with a recess so coals can be placed on the lid and give it a surrounding heat when campfire cooking. Basically it mimics the effects of an oven, so you can bake bread and other oven foods while traveling on the wagon trail.
The enamel or ceramic type should never be placed in a fire, but they can go inside a hot oven. If you want to cook multiple foods, simply fit multiple small Dutch oven dishes into the regular oven. You won't disturb the temperature or cooking time of one dish while tending to another as long as you don't remove the lids or keep the oven door open too long.
How to Buy a Dutch Oven

Are you ready to go shopping for a good Dutch oven?

First, decide how you want to use it. That will determine what material it should be made of. Cast iron is most versatile, but it might be too heavy for some people to maneuver. Glass lids are nice for peeking at the food without opening the lid, but they should not be used near a fire.
Second, decide how big you need it to be. Most recipes that serve 4 to 8 people use the standard size of 6 to 7 quarts; however, you might want a small Dutch oven that only holds 2 to 4 quarts if you are serving less people or want something easier to move around.
Finally, look at the warranty. Decide how many years or lifetimes it will last and if the price is really worth it. If you are considering cast iron, please see my cast iron cookware advice about how to season it and clean it properly.
Dutch Oven Recipes

There are so many cookbooks with different recipes and combinations to try that you'll never get bored, especially if you add the variable conditions of a campfire.
I suggest you start by making pot roast. That's an easy American classic. What's your favorite Dutch oven recipe?
More to Explore

---