Autumn Kindergarten 1

With much anticipation, we began autumn kindergarten 1 in September 2017. The first day of school finally came!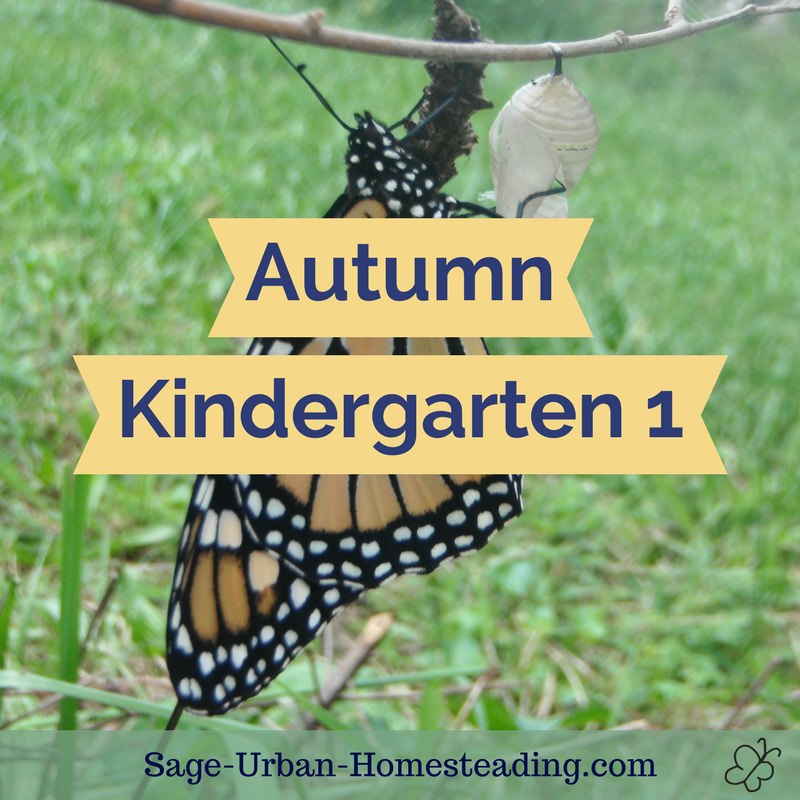 To celebrate our first day,  we took special pictures, made handprints to save, and I revealed the story props in a special box, now known as the school box. 

It's really just a cardboard box I decorated with some construction paper and washi tape at the last minute.
Our Daily Schedule for Autumn Kindergarten 1

It's on my to do list to make a section about homeschool schedules. For K1, we're trying breakfast and dress, a walk outside, circle time, the main lesson K1 story, snack, play with story props on own until lunch, lunch, special time (an idea from the book Listen), afternoon activity, snack, then quiet time.

We're flexible for days when we have classes in the community such as swimming and dance, to spend more time playing outside when it's nice, or when we can have playdates with friends
September
Our monthly Froebel gift to play with for September is Froebel gift 1, which is colored balls with and without string loops. Remember Froebel is not Waldorf, it's my own add-in. He predates Steiner as the inventor of kindergarten and a lot of our modern toys and games.

Week 1

We have lots of week 1 highlights, besides the first day of school fun. We made applesauce, learned about fire safety, had an intro to modeling beeswax and made little wax apples, and watched a monarch butterfly emerge from a chrysalis. We had a story about the apple tree who wanted a star then did apple prints with red and yellow paint.

Our favorite nature walk was splashing in puddles. We found an acorn and red and orange leaves for our monthly nature scene.
The Super Sam story from Waldorf Essentials involved an apple harvest and finding a mysterious fire in the forest, which the gnomes helped put out using a bucket and nearby stream.
We made hammock bunk beds for the gnome home.

Week 2

This week we would have flown a kite, but the weather didn't cooperate, so that's waiting for another day. We're planning to attend a kite festival soon.
We did a Tippy-Tippy story for wet on wet watercolor with yellow and red. We played with some skin crayons and talked about not using pens on our skin, but that lesson hasn't sunk in yet. We learned how hard it is to scrub crayons off of floors and walls, first time at 5 years old! The tired afternoon behavior issues continue.
The surprising favorite activity this week was origami. We used my old Easy Origami book and I made figures with her help. There was lots of discussion about shapes and fractions and how some of them resembled kites during the folding. We especially liked the origami figures you can play with such as the Tumbling Man and Jumping Frog -- physics lessons!
Another origami figure we liked was a red hen, so we read The Little Red Hen in Spanish, La gallinita roja. On our nature walks, we visited neighborhood donkeys and ducks. We added a green walnut and feather to our nature scene, along with our origami creations.

Super Sam had nice weather to fly his kite with Papa. There was more talk about fires and how forest fires could start. We still don't know what's causing the problems in their forest.
If you're wondering how I made the kites fly, it's 28mm wire. The end is curled into a spiral circle for the gnome to stand on and hold up the kite. The kites are made of construction paper, toothpick pieces, and some clear tape.
For the gnome home, we finished our hammock bunk beds and started working on a fall braided rug.

Week 3

We were out checking the milkweed and chestnuts in our yard one morning when we got the signal -- it was time to try our kite! We hurried to the park to fly it and had SO much fun!
We watched the collected walnuts in our nature scene change from green to black. We collected leaves and did some leaf rubbing artwork.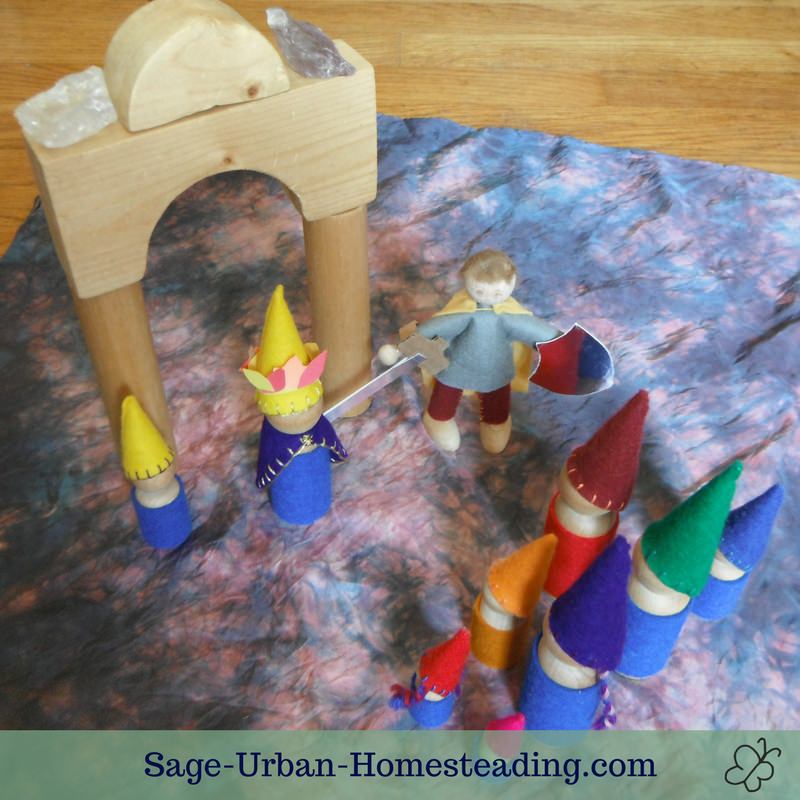 Super Sam and the gnomes were in the crystal palace to hear the king speak (wearing his leaf crown), and they met George. He has come to help with the dragon problem. Sam is hoping he gets to see the dragon.
The braided rug for autumn kindergarten 1 is making progress, but not done yet.
We spent some time this week making stick puppets of Tom and Tabby cat and a stop sign. We started our social skills stories (Teachers Pay Teachers, non-affiliate), which are about these two cats learning to be nice. The story and drawing this week involved learning to take turns... not the lesson we need at the moment with coloring furniture and throwing things across the room, but those lessons are coming!

More to Explore

---
---
Like This Page?